Antibody Affinity Maturation Service
Antibody Affinity Maturation Service (Cat. No.: SC1574)
Service Includes
Deliverable
Timeline
Antibody sequencing and sequence analysis

Antibody sequence, report of sequence analysis

24 weeks
Library design and construction

Library plasmid and glycerol stock, Report of library development

Phage display and FASEBA screening

Top five Fab candidates; Report of screening

Antibody production and characterization

Final report and purified antibody
The following is GenScript's standard affinity maturation service procedure: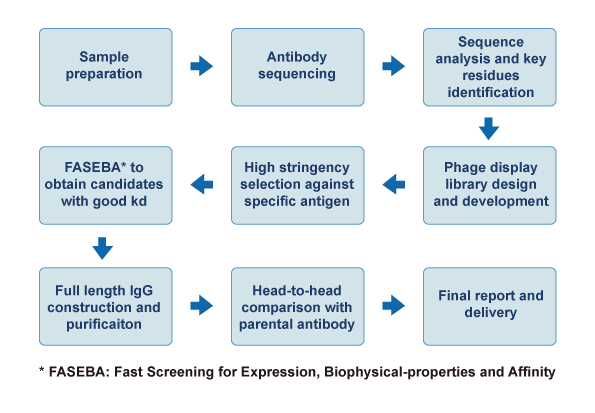 Please find out more for FASEBA technology here

GenScript offers our customers a one-stop solution for all outsourcing needs, providing comprehensive upstream and downstream services of monoclonal antibody sequencing service.
Key Features:
Proprietary FASEBA technology for guaranteed protein stability
Affinity maturated to at least low nM or improved 10 fold
Affinity assessed with BIAcore T200
Expression level evaluated
Affinity is a key parameter of an antibody and often defines its functions and efficacy. Antibodies generated with hybridoma technology usually have a relatively high affinity but this affinity may still not suffice the need of a therapeutic antibody. GenScript's Antibody Affinity Maturation Service (Cat. No.: SC1574) can increase the affinity to an ideal level.

Quotation and Ordering
Please contact us mentioning "Discovery Biology", our customer service representatives are available 24 hours a day, Monday through Friday to assist you.