Biomarker & Bioanalysis Service (Cat.No.SC1556)
GenScript's biomarker identification & quantification services make it feasible for our clients to better elucidate the molecular mechanism for drug susceptibility and resistance in disease models. Furthermore, GenScript has established biomarker assays to determine and quantify various biomarker proteins in serum/plasma, urine and other body fluid samples from clinical trials. The clinical biomarker services include scheduling collection & analysis of human clinical samples, screening the patients for the clinical trial selection based on the biomarker identification & quantification, and sample processing & logistics.
Services Provided
Related Assay
Case Study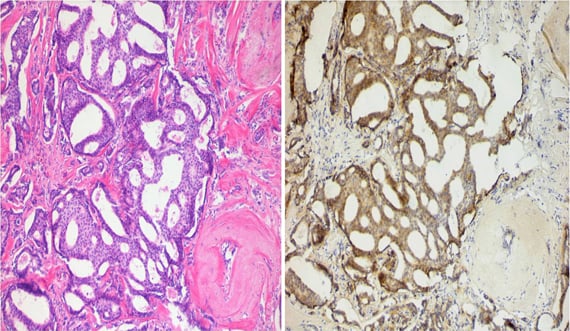 Figure. H&E and IHC staining in human breast cancer biopsies. The morphology was identified by H&E in a human breast cancer tissue (left) and Her-2 over expression was identified by IHC in the same lesion (right).

Quotation and Ordering
Please contact us mentioning "Discovery Biology", our customer service representatives are available 24 hours a day, Monday through Friday to assist you with Form preparation.