Metastatic tumor models (Cat.No.SC1551)
In orthotopic tumor models, cancer cells are much easier to metastasize than in s.c. xenograft models; therefore, these models could be used to develop metastatic tumor models. We also have expertise in developing metastatic models by tail vein injection with tumor cells. GenScript currently provides the following validated models for customers:
Tumor Model List
Case Study
Experimental Metastasis
A549-Luc
Lung metastasis
MDA-MB-231-Luc
Lung metastasis
HT-29-Luc
Colorectal cancer liver metastasis
LL/2-Luc (Syngeneic)
Lung metastasis
B16-Luc (Syngeneic)
Lung metastasis
Spontaneous Metastasis
4T1-Luc (Syngeneic)
Lung metastasis etc.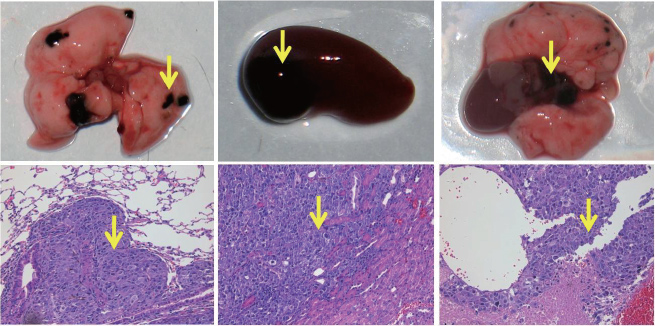 Figure. Tumor metastasis following intravenous injection of B16 murine melanoma; from left to right, upper panels showing metastasis in the lung, the kidney, and the heart, respectively, lower panels showing hematoxylin and eosin (H&E) stain of tissues of the corresponding organs.
Quotation and Ordering
For questions, or to inquire about the status of your order, please contact us by email, phone, fax or via our Secure Online Messaging System.

| | |
| --- | --- |
| To allow us to provide you with a comprehensive quotation, please download and complete the Quotation/Order Form, and send it to us by email, fax, or via our Secure Online Ordering System. | |

To place an order, please send us a formal PO (Purchase Order) or credit card information with our quotation number by email or fax. You can also submit PO/credit card information by phone or via our Secure Online Messaging System.
Our customer service representatives are available 24 hours a day, Monday through Friday to assist you.