Custom Antibody Development Services
Reliable immunological assays demand reliable antibodies generated by reliable custom antibody production services. GenScript provides a one-stop solution for all of our customers' antibody needs. Our custom antibody production services include recombinant protein expression, peptide design and synthesis, polyclonal and monoclonal antibody production, express polyclonal and monoclonal antibody production, affinity purification, conjugation, fragmentation, and immunoassay development. GenScript gives you the best guarantee in the antibody production industry by implementing our proprietary OptimumAntigen™ design tool, FlexPeptide™ peptide synthesis, and proprietary immunization adjuvant. Our animal facility is AAALAC International accredited and OLAW assured.
GenScript now provides our unparalleled PolyExpress™ Guaranteed Antibody Package and MonoExpress™ Guaranteed Antibody Package, at an unbeatable price of only $649 and $3,800 respectively.
Advantages:
1. Guaranteed results: The best guarantees in the industry, including Western-GUARANTEED package and ELISA titer guarantee.
2. Most competitive prices: On average at least 30% less expensive than our competitors' prices.
3. Advanced facility: Our animal facility is AAALAC accredited and OLAW assured (Assurance Number: A5892-01, Click to verify at OLAW official website)
4. OptimumAntigen™ technology: Combines the most advanced algorithms with time-tested expertise to provide peptide antigens.
5. proprietary immunization adjuvant: Ensures high specificity and high titer of the produced antibodies; Induces more potent immune reaction than the standard Freund's adjuvant.

Antibody Service Display:
Antibody Affinity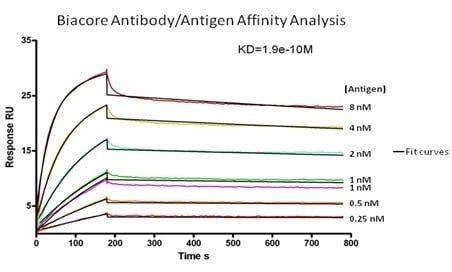 Biacore affinity data from a monoclonal antibody generated by MonoExpress™ Antibody Services.
Compared to an antibody generated by conventional immunization, the MonoExpress™ generated antibody exhibited an equal or greater affinity to its complementary antigen. Typically monoclonal antibodies generated by MonoExpress™ services display reasonably high affinities to their target antigens.
Antibody Specificity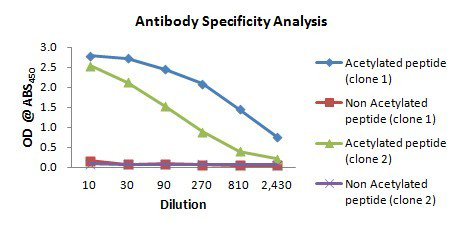 Indirect ELISA screen of a hybridoma supernatant generated by MonoExpress™ Antibody Service. MonoExpress™ antibodies had high specificity to acetylated peptide antigens and no cross-reactivity with corresponding non-acetylated peptide antigens.
Antibody Service Flowchart: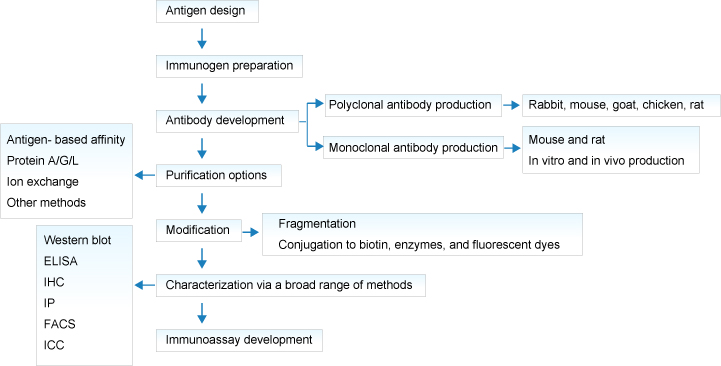 Customer Testimonial:
"I ordered from GenScript 3 different polyclonal antibodies directed to the peptide sequences I have selected as unique ones from the proteins we have been working on. In all cases this was a full service from peptide synthesis, KLH coupling, immunization and affinity purification. All three antibodies worked very nicely in Western, immunoprecipitation and immunocytochemistry."
—Prof. Katarzyna Nalecz, Nencki Institute of Experimental Biology, Poland
Quotation and Ordering:
To request a quotation, please download and complete our Quick Quotation Request.
For polyclonal antibody production, please download & complete our Polyclonal Antibody Order Form.
For monoclonal antibody production, please download & complete our Monoclonal Antibody Order Form.
To submit an antigen, mail it together with a completed hard copy of Antigen
Submission Form to Antibody Services, GenScript, 860 Centennial Avenue., Piscataway, NJ 08854, US.
Please email or fax all quotation requests or completed order forms (including the Antigen Submission Forms) to GenScript.

If you have any questions or would like to inquire about the status of your order, please contact us by phone, email, fax, or via our secure web server.
Our customer service representatives are available 24 hours a day, Monday through Friday to assist you.