| | |
| --- | --- |
| Antibody Drug Development Center | |
Today, biopharmaceuticals account for between 10% and 15% of the world pharmaceutical market (more than $10 billions). Monoclonal antibody drugs represent a primary sector of the biopharmaceuticals market. The specificity of mAbs against antigens has tremendous clinical value, making them effective therapeutic agents. Many large-sized pharmaceutical companies are looking at mAb research more closely after the success of products such as Remicade and Rituxan.
As one of the world's leading biology contract research organizations, GenScript has established a comprehensive antibody drug development platform that can smoothly integrate antibody engineering and antibody production technologies to satisfy your need in drug development. GenScript's Antibody Drug Development Center, equipped with profound knowledge, extensive experience as well as state-of-the-art instruments, can provide superior services and products in the most time-efficient and cost-effective manner.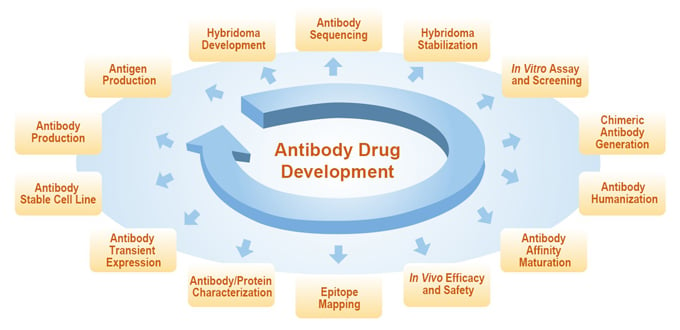 The one-stop service package starts with Antigen Production and Hybridoma Development, and is followed by Antibody Sequencing, which provides the basis for antibody optimization, and Hybridoma Stabilization, which eases your concern that your precious hybridoma clones may lose productivity. In addition, Chimeric Antibody Generation offers a fast and inexpensive approach for generating therapeutic antibodies, and Antibody Humanization provides a more advanced way in reducing immunogenicity of antibodies to human. Affinity Maturation renders your antibody desired affinity for its function. Epitope Mapping not only provides important information on the nature of your antibody, but also facilitates patent application to protect it. Properties of your antibody and antigen such as affinity and thermostability can be measured through Antibody/Protein Characterization. Biological functions and activities of your antibody and antigen can be assessed via In Vitro Assay and Screening as well as In Vivo Efficacy and Safety study. At the end, Antibody Transient Expression, Antibody Stable Cell Line and Antibody Production produce sufficient amount of antibodies for your research and development.
Antibody Engineering
Antibody Characterization
Antibody Production
1. Hybridoma Development: Hybridoma Development can provide hybridoma cell lines and antibody candidates for antibody drug development. GenScript guarantees two positive clones for each antigen, if peptide antigens were designed, synthesized, and conjugated by GenScript.

2. Monoclonal Antibody Sequencing: Knowing the sequence of your monoclonal antibody is not only the vital first step toward optimizing its functions, but also critical for patent application. GenScript's advanced technology offers accurate and fast sequencing services for your hard-won monoclonal antibodies. We are skilled in sequencing monoclonal antibodies with flexible specifications.

3. Chimeric Antibody Generation: The safety of chimeric antibodies is proven with 5 FDA approved drugs on the market. In addition, development of chimeric antibodies is more cost-effective. GenScript's Chimeric Antibody Generation service can develop desired stable cell line and provide sufficient antibodies for your in vitro and in vivo assay.

4. Hybridoma Stabilization: Antibody production by hybridoma cell lines is inherently unstable. Failure to maintain cell lines properly will lead to loss in antibody productivity and eventually the cell line itself. GenScript's Hybridoma Stabilization Service can redesign the antibody for permanent preservation and improved productivity with advanced Hybridoma Revival System

5. Antibody Humanization: Antibody humanization has become a powerful tool in reducing HAMA reaction in patients, which is one of the key issues in antibody therapy. Currently GenScript provides CDR grafting approach for antibody humanization and is developing other means to reach the goal.

6. Antibody Affinity Maturation: Affinity is a key parameter of an antibody and often defines its functions and efficacy. Antibodies generated with hybridoma technology usually have a relatively high affinity but this affinity may still not suffice the need of a therapeutic antibody. GenScript's Antibody Affinity Maturation service (launching soon) can increase the affinity to an ideal level.
1.Antibody/Protein Characterization: To be considered as a drug candidate, an antibody has to satisfy all key parameters such as high expression, high thermostability, lack of aggregation formation and having a high affinity to target. GenScript offers such characterization services with its powerful Protein Station.

2. Epitope Mapping: Epitope mapping has become more and more vital in both vaccine and antibody drug development. Knowledge on epitope of an antibody will largely facilitate your drug design and patent application. Based on our advanced peptide library platform, GenScript provides a comprehensive series of Epitope Mapping Services to fulfill customers' demand.
1. Antibody Transient Expression: Transient expression can help produce adequate antibodies with less time and lower cost. GenScript's proprietary 293 and CHO suspension system promotes fast production and delivery of monoclonal antibodies up to grams level. We are committed to our customers' successes with our timely delivery of premium quality services in the most cost-effective manner.

2. Antibody Stable Cell Line: A stable cell line is most needed when you are confident about the efficacy of your antibody. It will improve antibody production yield and speed up antibody production. GenScript is proud of offering its years of demonstrative and professional custom services in creating and selecting stable clones for antibody production. We evaluate primary clones for productivity and adaptability for growth in serum-free suspension culture, and identify cell lines with the best potential for stable, long-term production and scalability.

3. Antibody Production: Antibody Production is considered the last engineering step in antibody drug development. Congratulations for getting here! GenScript's team of experienced scientists and proprietary development platform provide antibody production service for optimizing the growth and production media of target cell lines, defining feeding strategies, studying cell line stability, and increasing cell culture production. We also offer a thorough analysis of growth rate, subcultivation ratios, cell mass, and specific and volumetric productivity levels using productivity-enhancing conditions.
Quotations and Ordering


Orders can be placed by phone, email, fax, or online with a formal PO (Purchase Order) or credit card. We recommend that you submit your service requests and orders via our Secure Online Ordering System.

For questions and quotation requests, please use our Secure Web Server.
Our customer service representatives are available 24 hours, Monday through Friday to assist you.