| | |
| --- | --- |
| Bio-Reagent Service Center | |
We at GenScript have developed advanced genomic, transcriptomic, and proteomic technologies designed to accelerate our clients' drug discovery programs. GenScript's Bio-Reagent Center boasts world-class talent and state-of-the-art equipment, providing superior services and products in the most time-efficient and cost-effective manner.
With a scientific team sporting a total of over 1,000 years of industrial experience in bio-reagent services, and a track record of delivering over 90% of all orders on time, GenScript offers clients and strategic partners guaranteed satisfaction and the benefits of our economy-of-scale and broadness-of-scope bio-reagent services in molecular biology, custom peptides, custom proteins, custom antibody production, and custom cell line development.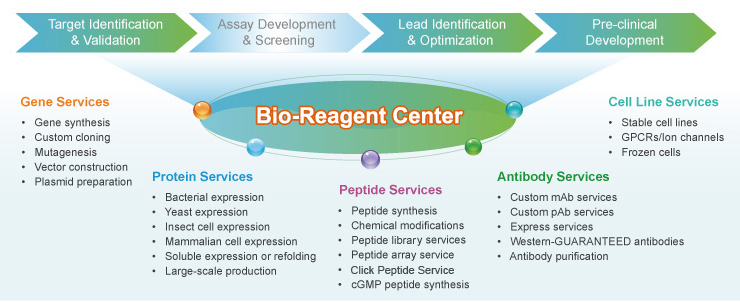 Custom Molecular Biology Services
Custom Protein Services
Custom Peptide Services
Custom Antibody Services
Custom Cell Line Services
Quotations and Ordering


Orders can be placed by phone, email, fax, or online with a formal PO (Purchase Order) or credit card. We recommend that you submit your service requests and orders via our secure online ordering system.

For questions and quotation requests, please use our secure web server. Our customer service representatives are available 24 hours, Monday through Friday to assist you. However, you may also contact us by email, phone, or fax.