Your Innovation Partner in Drug Discovery
GenScript is a leading biology CRO focusing exclusively on early drug discovery and development services. Built on our assembly-line mode, one-stop solution, continuous improvement, and stringent IP protection, GenScript provides a comprehensive portfolio of services that include Bio-Reagent, Bio-Assay, Lead Optimization, and Antibody Drug Development which can be effectively integrated into your value chain and your operations. We strive with competence and confidence to meet your demand for developing pre-clinical drug candidates time-efficiently and cost-effectively. With track performance record, GenScript is your ideal and reliable innovation partner in drug discovery.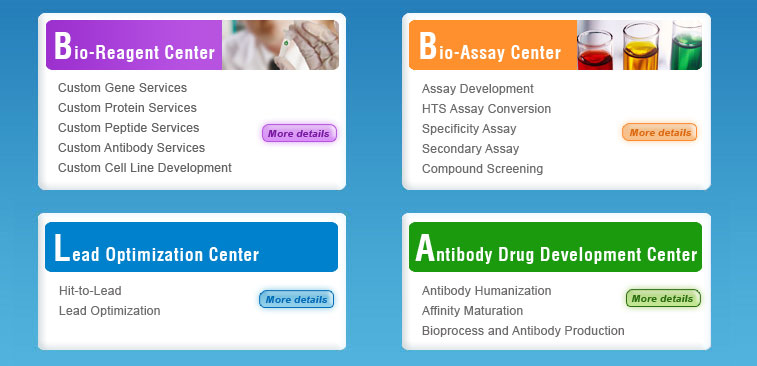 Key Facts about GenScript
We are the leading biology CRO in the world.
We are the largest gene synthesis provider in the U.S.
GenScript offers the best antibody service guarantees in the industry.
We provide one-stop biology contract research services for early drug discovery in both small and large molecules.
We offer advanced bioinformatics tools and IT infrastructure for value-added services, maximizing the client's convenience and satisfaction.
Our customers include top pharmaceutical companies, major biotech firms, and research institutions in over 70 countries.
The Value GenScript Adds to Your Business
Our well-integrated services and unique operation model add following values allowing you to:
Tap into large talent pool with expertise in multiple functional areas.
Access to special technology, additional capacity, extra headcount, and flexible scheduling.
Receive seamless communication, around-the-clock support, standard documentation, and timely delivery.
Accelerate drug discovery and development program with increased efficacy and reduced cost.
Secure full IP protection with complete confidentiality and multiple layers of security measures.
Foster a long-term strategic partnership with a reliable and proven CRO such as GenScript that offers a comprehensive portfolio of drug discovery services.
Quotations and Ordering


Orders can be placed by phone, email, fax, or online with a formal PO (Purchase Order) or credit card. We recommend that you submit your service requests and orders via our secure online ordering system.

For questions and quotation requests, please use our secure web server. Our customer service representatives are available 24 hours, Monday through Friday to assist you. However, you may also contact us by email, phone, or fax.