BloodReadyTM Multiplex PCR System
*This product has been discontinued! *
Description: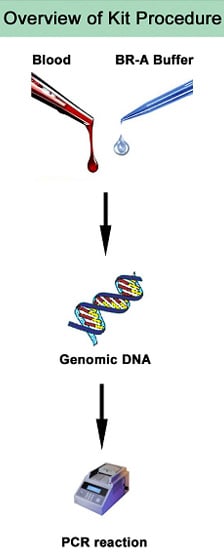 BloodReadyTM Multiplex PCR System is a powerful reagent kit for both rapid genomic DNA preparation and multiplex PCR amplification. Genomic DNA is directly released from blood cells in a single step by adding a proprietary reagent directly to blood samples without DNA purification. The genomic DNA can then be used immediately in PCR amplification of multiple gene targets (up to >1,000) or stored at 4°C for future use (stable at least 6 months at 4°C).

Key Features:
Easy to perform: Our simple, speedy procedure extracts DNA in a single step.


High specificity: "HotStart" ScriptTM DNA polymerase (a GenScript proprietary DNA polymerase), yields highly specific amplification results.


Multiplex PCR: GenScript multiplex PCR primers can amplify over 1,000 DNA sequences.


Excellent sensitivity: Genomic DNA from a single sperm has been successfully used in multiplex PCR amplification of more than 1000 amplicons and subsequent DNA genotyping assays. TissueDirect can work with even the smallest amounts of tissue, preserving precious samples and permitting less invasive methods.