*This product has been discontinued! *
BloodReadyTM Multiplex PCR System
Description: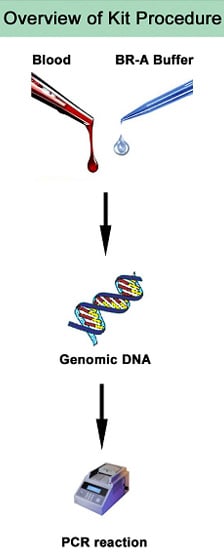 BloodReadyTM Multiplex PCR System is a powerful reagent kit for both rapid genomic DNA preparation and multiplex PCR amplification. Genomic DNA is directly released from blood cells in a single step by adding a proprietary reagent directly to blood samples without DNA purification. The genomic DNA can then be used immediately in PCR amplification of multiple gene targets (up to >1,000) or stored at 4°C for future use (stable at least 6 months at 4°C).
Key Features:
Easy to perform: Our simple, speedy procedure extracts DNA in a single step.


High specificity: "HotStart" ScriptTM DNA polymerase (a GenScript proprietary DNA polymerase), yields highly specific amplification results.


Multiplex PCR: GenScript multiplex PCR primers can amplify over 1,000 DNA sequences.


Excellent sensitivity: Genomic DNA from a single sperm has been successfully used in multiplex PCR amplification of more than 1000 amplicons and subsequent DNA genotyping assays. TissueDirect can work with even the smallest amounts of tissue, preserving precious samples and permitting less invasive methods.

Applications:

DNA preparation and PCR from blood samples for applications such as the following:


SNP genotyping and mutation detection
Target detection in transgenic mice
DNA sequencing and cloning
Quantitative PCR
Examples:

Shown below are a PCR analysis of genomic DNA extracted using the BloodReady™ Multiplex PCR Kit and the amplified results of a similar extraction.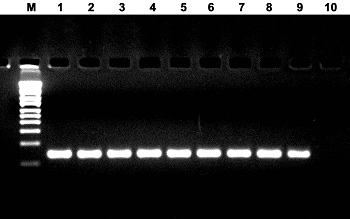 Figure 1. PCR analysis of genomic DNAs extracted from blood samples. Genomic DNAs were extracted from nine different blood samples and amplified using BloodReadyTM Multiplex PCR Kit according to the kit instructions. M is 100 bp DNA marker lane. Lane 1 to 9 show nine blood samples. The last lane shows a negative control. PCR products are all 142 bp long.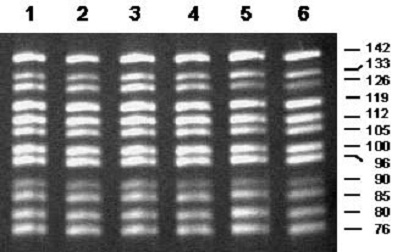 Figure 2. Multiplex PCR amplification of human genomic DNA extracted using the BloodReadyTM Multiplex PCR Kit (L00197). The sizes of each PCR DNA molecule are shown on the right. Lane 1 and 2 show the DNA extracted from 100 blood cells. Lane 3 and 4 show DNA extracted from 25 blood cells. Lane 5 and 6 show DNA extracted from only five blood cells.
Primer set used in this experiement:
No.
DNA size (bp)
Primer sequence
1
142
ATTGTAGGGAAATGTCTGTCTGAT
ACACCAATCTCTACATCATAAGGAG
2
133
AGTGATCATGCTGTTTTCCTC
GATTTTTATCCTGTTTGTGCC
3
126
TCAAAATAATTGTTCCAAAGTAGCA
AAAAATGACCTTTGCAAGTACATTT
4
119
TGATTATTGGGAAAAGATCTGAGAC
ACAAACCCACTTTTCATCACA
5
112
AAGCATACCTGTGAGAGTGCACA
AGGCCAATGGGTAATGGTAAATCCC
6
105
CACCTCTGACTTCTCAGGTGT
GCCTCTAACATTCTGTTTAGGAGA
7
100
GTAAAGAATTCAATGAGTATGCCA
CTTGTTTGCAGGGTGATGCCATTT
8
96
TGTCCCTCTGAATAATTGTAGAA
ATGTCTGAGTTAAATACCACACAG
9
90
TAAGACAGTTTTCTTGGAGAGTAAACATTG
TTTTTTCAAAGTCTTCAGATATGGT
10
85
CTCCAACACACAGAACAGGAGGGAGGAAT
TAATGGAAGGAGTAGCCCAACT
11
80
TCATATTAAGCAACTAATATTTGTGCCATC
CATCTGGTGCCCATGTGTGTC
12
76
TCCCGTCACCTGAAACTGCTGTCACC
GCATATTTGGTGGAAAAGTCTACAG
BloodReadyTM Multiplex PCR System is also a high-throughput system.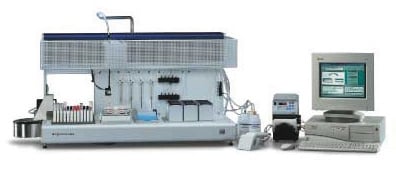 Figure 3. Qiagen BioRobot 9604 automation system.
The BloodReadyTM Multiplex PCR System is also a high-throughput system. With BloodReadyTM Multiplex PCR System, genomic DNA is prepared and amplified in just a few easy steps that eliminate the need for any other type of purification such as DNA precipitation and column purification, organic extraction, or proteinase digestion. The BloodReadyTM Multiplex PCR System can be easily adapted to high-throughput automation systems such as the Qiagen BioRobot 9604 for automated nucleic acid preparation and subsequent amplification of genomic DNA from tissue in a 96-well automated format. The use of hot-start Taq DNA polymerase prevents amplification of nonspecific products and increases the efficiency of the amplification of the desired sequences.

1
Related Products