*This product has been discontinued! *
pRNA-U6.1/Neo
Description
pRNA-U6.1/Neo is a GenScript siRNA expression vector. It is designed for mammalian transfection. It carries a neomycin resistance gene that can be used for establishing stable cell line. It uses a U6 promoter for siRNA expression.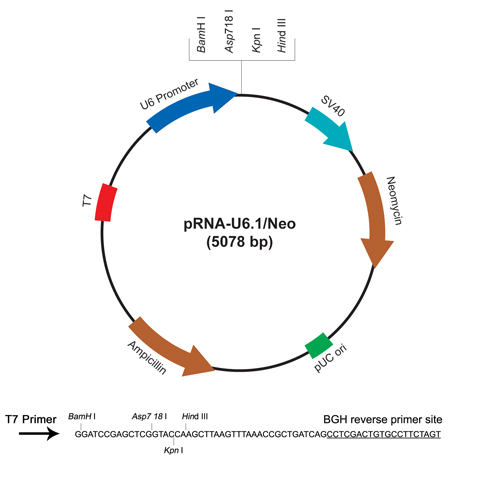 Storage
Store at -20°C

Download Protocol
tm0169
Forward Sequencing Primer
DA0011: pRNA-U6 Forward (TACGATACAAGGCTGTTAGAGAG)

Reverse Sequencing Primer
DA0012: pRNA Reverse (TAGAAGGCACAGTCGAGG)

Detailed Map
Polylinker: 78 - 101
U6 Promoter: 4829 - 77
SV40 Promoter: 850 - 1195
Neomycin: 1236 - 2030
pUC ori: 2744 - 3384
Ampicillin: 3532 - 4392


Vector Sequence and Restriction Enzyme Map




Document
Document-PRODUCTINFO: 1107_20051023210728.PDF (PDF)
1

Gene Synthesis: GenScript's custom gene synthesis service starts as LOW as $0.39/bp, with advanced FREE codon optimization tool and seamless cloning technology.

2

PCR Cloning and Subcloning: Start GenScript's flexible PCR cloning and subcloning service RIGHT NOW, getting comprehensive packages delivered in 14 business days.

3

Site-directed Mutagenesis Services: $149/mutation for special mutagenesis bundle. Site-directed Mutagenesis offers point mutations, deletions, and insertions with unparalleled accuracy, unlimited sites, and comprehensive service package.

4

Plasmid DNA Preparation: GenScript plasmid DNA preparation services offer endotoxin FREE and predominantly supercoiling plasmid DNA from 100 ug to 1000 mg start from $50.