*This product has been discontinued! *
pRNA-H1.1/Retro
Description
pRNA-H1.1/Retro siRNA expression vector is compatible with Clontech Retro-X Expression System. An H1 promoter drives siRNA expression. the siRNA insert cloned between the Mlu and Xho sites. The vector contains a hygromycin resistance gene under the control of cytomegalovirus (CMV) promoter* for establishing stable cell line. The vector uses CMV enhancer/promoter joined MSV 5'LTR (CMV/MSV 5'LTR). It uses MSV 3'LTR for viral transcription and packaging.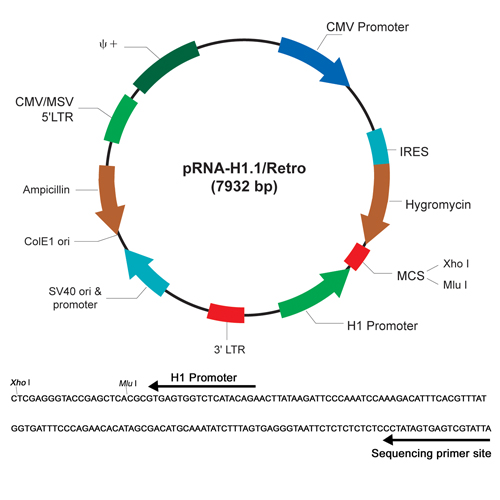 Storage
Store at -20°C

Download Protocol
TM0187
Forward Sequencing Primer
DA0025: SD1241 Forward (TGTAGGTTTGGCAAGCTAGC)

Reverse Sequencing Primer
DA0013: pRNA-H1 Forward (TAATACGACTCACTATAGGG)

Detailed Map
5' LTR: 1 - 727
3' LTR: 4768 - 5063
psi+: 757 - 1566
ColE1 ori: 6650 - 5764
SV40 ori & promoter: 5320 - 5664
Polylinker: 4596 - 4619
H1 Promoter: 4719 - 4620
CMV Promoter: 1604 - 2132
Hygromycin: 2901 - 3921
Ampicillin: 7570 - 6710


Vector Sequence and Restriction Enzyme Map




Document
Document-PRODUCTINFO: 1153_20051024014300.PDF (PDF)
TECHNICAL MANUAL: 402_20050708115745.PDF (PDF)
1

Gene Synthesis: GenScript's custom gene synthesis service starts as LOW as $0.39/bp, with advanced FREE codon optimization tool and seamless cloning technology.

2

PCR Cloning and Subcloning: Start GenScript's flexible PCR cloning and subcloning service RIGHT NOW, getting comprehensive packages delivered in 14 business days.

3

Site-directed Mutagenesis Services: $149/mutation for special mutagenesis bundle. Site-directed Mutagenesis offers point mutations, deletions, and insertions with unparalleled accuracy, unlimited sites, and comprehensive service package.

4

Plasmid DNA Preparation: GenScript plasmid DNA preparation services offer endotoxin FREE and predominantly supercoiling plasmid DNA from 100 ug to 1000 mg start from $50.