*This product has been discontinued! *
pRNA-H1.1/Neo/CTL
Description
pRNA-H1.1/Neo/CTL is a GenScript general-purpose siRNA negative control vector. It is designed for mammalian transfection. It uses an H1 promoter for siRNA expression. The sense sequence shows no homology to any mouse or rat mRNA sequence in the NCBI RefSeq database. It can be used as a negative control and as a siRNA vector. This vector employs BamH I and Hind III for siRNA insertion.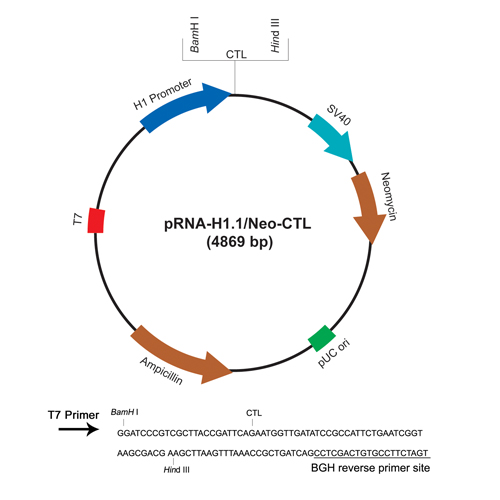 Storage
Store at -20°C

Download Protocol
tm0169
Forward Sequencing Primer
DA0013: pRNA-H1 Forward (TAATACGACTCACTATAGGG)

Reverse Sequencing Primer
DA0012: pRNA Reverse (TAGAAGGCACAGTCGAGG)

Detailed Map
Polylinker: 4700 - 4767
H1 Promoter: 4600 - 4699
SV40 Promoter: 647 - 992
Neomycin: 1033 - 1827
pUC ori: 2541 - 3181
Ampicillin: 3329 - 4189


Vector Sequence and Restriction Enzyme Map




Document
Document-PRODUCTINFO: 1215_20051024034858.PDF (PDF)
TECHNICAL MANUAL: 313_20050506154231.PDF (PDF)
1

Gene Synthesis: GenScript's custom gene synthesis service starts as LOW as $0.39/bp, with advanced FREE codon optimization tool and seamless cloning technology.

2

PCR Cloning and Subcloning: Start GenScript's flexible PCR cloning and subcloning service RIGHT NOW, getting comprehensive packages delivered in 14 business days.

3

Site-directed Mutagenesis Services: $149/mutation for special mutagenesis bundle. Site-directed Mutagenesis offers point mutations, deletions, and insertions with unparalleled accuracy, unlimited sites, and comprehensive service package.

4

Plasmid DNA Preparation: GenScript plasmid DNA preparation services offer endotoxin FREE and predominantly supercoiling plasmid DNA from 100 ug to 1000 mg start from $50.