SARS-CoV-2 RT-qPCR Primers & Probes
GenScript provides the synthesis service for RT-qPCR primers and probes of the sequences recommended by WHO and CDC.
Gene Name
Oligo Name
oligo Sequence(5'-3')
Length (nt)
RdRP gene
RdRP_SARSr-F2
GTGARATGGTCATGTGTGGCGG
22
RdRP_SARSr-R1
CARATGTTAAASACACTATTAGCATA
26
RdRP_SARSr-P2
CAGGTGGAACCTCATCAGGAGATGC
25
RdRP_SARSr-P1
CCAGGTGGWACRTCATCMGGTGATGC
26
E gene
E_Sarbeco_F1
ACAGGTACGTTAATAGTTAATAGCGT
26
E_Sarbeco_R2
ATATTGCAGCAGTACGCACACA
22
E_Sarbeco_P1
ACACTAGCCATCCTTACTGCGCTTCG
26
N gene
N gene-F
GGGGAACTTCTCCTGCTAGAAT
22
N gene-R
CAGACATTTTGCTCTCAAGCTG
22
N gene-P
TTGCTGCTGCTTGACAGATT
20
ORF1ab gene
ORF1ab-F
CCCTGTGGGTTTTACACTTAA
21
ORF1ab-R
ACGATTGTGCATCAGCTGA
19
ORF1ab-P
CCGTCTGCGGTATGTGGAAAGGTTATGG
28
We have two different standards to fulfill your request:
Research use only
Clinical used (ISO13485 certified synthesis)
GenScript also offers any other customized primers and probes for COVID-19 research. Please contact our technical support managers for more information via email [email protected]. Our technical account managers will contact you in 24 hours.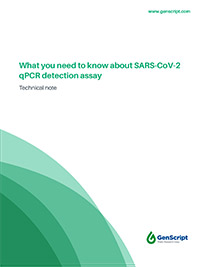 Download Technical Note!
What you need to know about SARS-CoV-2 qRT-PCR detection assay
GenScript Press Release about COVID-19
To place order or need technical support for coronavirus detection assay, please contact:
 

Phone:

1-877-436-7274 (Toll-Free);

1-732-885-9188

 

Fax: 1-732-210-0262
Plasmids Used for SARS-CoV-2 Detection and Research are
In Stock

Now!

The plasmids containing parts of SARS-CoV-2 RdRP gene, N gene, E gene that can be used as positive controls for SARS-CoV-2 detection are in stock now. A group of plasmids carrying the encoding sequences of surface glycoprotein and nucleocapsid phosphoprotein are also available. The quick online order channel has been launched on MolecularCloud.