Custom RNA Oligos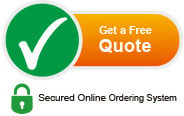 Synthetic RNA is widely used in research applications as an important tool for gene functional analysis and the development of novel therapeutic strategies. GenScript provides high-quality and cost-effective custom RNA oligos with flexible synthesis scales to meet researchers' different needs. Unmodified RNA, RNA with modifications, chimeric oligonucleotides with mixed DNA and RNA bases, 2'-OMe-RNA, 2'-F-RNA, and other antisense RNAs are available at your specific request. To ensure that the RNA oligos are of highest quality, all RNA oligonucleotides are identified by ESI (electrospray ionization) mass spectrometry. To meet QC specifications, the deviation from measured mass to calculated mass must be no more than 1‰. The purity of the RNA is analyzed by HPLC.
Competitive Advantages:
Comprehensive Backbones: RNA, 2'-OMe-RNA, 2'-F-RNA and other analogs
Flexible Synthesis Scales: 50 nmol, 100 nmol, 200 nmol, 1 µmol, 5 µmol, and 10 µmol. Bulk orders are available upon request
Experienced Team: scientists and staff with over 20 years of experience in oligo synthesis and modifications
High Quality: ISO9001 certificated, comprehensive quality control reports (HPLC, MS)
Cost Effective: competitive prices, especially at 50 nmol scale
Modification/Labeling:
GenScript provides a wide variety of modifications for your individual research need. The modifications range from
General modifications such as modified bases, phosphorylation, thiolation, linkages, etc.
Labeling such as fluorescent/non-fluorescent dye labeling, dual-labeled and multiple labeling
Backbone modifications such as DNA containing thiophosphodiester linkages.
Delivery Specifications:
Turnaround:
5-10 business days
Deliverables:
Your desired oligonucleotides in tubes
Certificate of analysis (COA)
MS report
HPLC report
CGE report
Quotations and Ordering:

For quotations, please use our secured Online Quotation/Ordering system. However, you may also contact us by email, phone (1-732-885-9188) or fax (1-732-210-0262).


Orders can be placed directly through our secured Online Quotation/Ordering system with a formal PO (Purchase Order) or credit card.

For batch orders, please download and complete our Quick Quotation Request and send it to us via email or fax.
Our customer service representatives are available 24 hours Monday through Friday. You may contact us anytime for assistance.