The outbreak of coronavirus disease 2019 (COVID19) has posed a global threat to public health. A novel coronavirus, SARS-coronavirus 2 (SARS-CoV-2), has been identified as the etiologic agent of this disease.
Spike protein of SARS-CoV-2 (previously named 2019-nCoV) is composed of a S1 domain and S2 domain. The S1 domain contains a receptor-binding domain (RBD) that can specifically bind to angiotensin-converting enzyme 2 (ACE2), the receptor on target cells. It is believed that SARS-CoV-2 Spike Protein (RBD) has potential value for the diagnosis of the virus.
Cell entry of coronavirus depends on the spike (S) protein binding to a cellular receptor and priming by a cellular protease. Recent studies demonstrate that angiotensin-converting enzyme 2 (ACE2) serves as the cell surface receptor to bind S protein in SARS-CoV-2 and facilitates entry of these coronaviruses into the cell. Read More »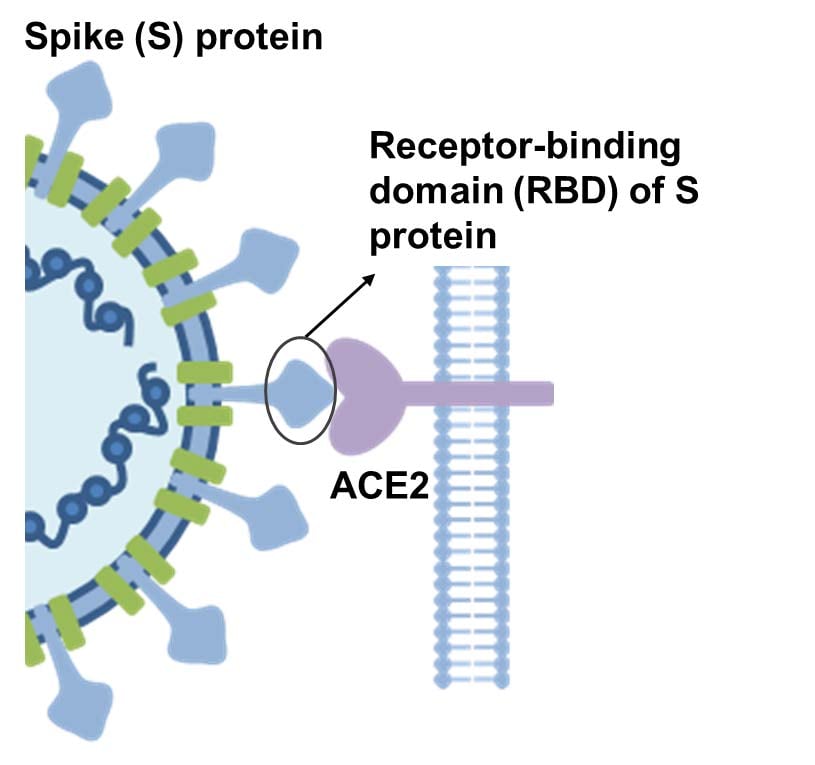 ACE2 is an enzyme expressed on the cell surface in various tissues including lungs, arteries, heart, kidney and intestines. Discovered as a homologue of ACE, ACE2 acts as its physiological counterbalance providing homeostatic regulation of circulating angiotensin II (Ang II) levels. In the process of coronavirus entry, the binding of the spike S1 protein of SARS-CoV2 to the enzymatic domain of ACE2 on the surface of cells results in endocytosis and translocation of both the virus and the enzyme into endosomes located within cells. ACE2 has therefore been proposed as potential therapeutic target for COVID19.
At GenScript, we have developed single clone stable cell lines with high expression of the key regulators of COVID19, SARS-CoV-2 Spike protein or human ACE2 (hACE2) as powerful cell line tools for drug discovery to treat COVID19.
ACE2 Stable Cell Lines for SARS-CoV-2 Investigation
Key features
Both HEK293/ACE2 and CHO-K1/ACE2 stable cell lines are generated with the features below:
Single clone cell line
Validated for stable hACE2 expression and S protein RBD binding
Easy to use in binding assays or as immunogens
Applications
Neutralization assays to screen antibodies or other molecules that can block pseudovirus or live virus infection
Affinity analysis of antibody or other molecules to Spike protein
In vitro cell models for investigating SARS-CoV-2 infection mechanism
Examples: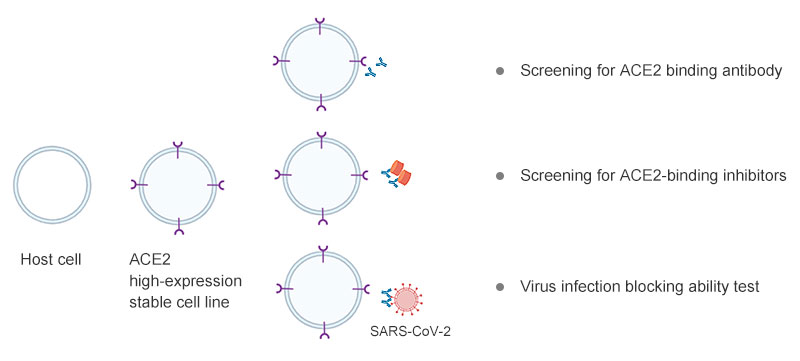 Product list
| Protein of Expression | Cell Line | Cat.No. |
| --- | --- | --- |
| ACE2 | HEK293/ACE2 | M00770 |
| ACE2 | CHO-K1/ACE2 | M00771 |
SARS-CoV-2 Spike Protein Stable Cell Lines New
Key features
SARS-CoV-2 Spike protein stable cell lines are generated with the features below:
Single clone cell line
Expression of full length Spike protein including S1 domain and S2 domain (please see the sequence in product protocols)
Validated for stable SARS-CoV-2 spike protein expression and human ACE2 binding
Easy to use in binding assays or as immunogens
Applications
In-vitro binding assay or used as immunogen
Product list
| Protein of Expression | Cell Line | Cat.No. |
| --- | --- | --- |
| SARS-CoV-2 Spike protein | CHO-K1/Spike Stable Cell Line | M00803 |
| SARS-CoV-2 Spike protein | HEK293T/Spike Stable Cell Line | M00804 |