MonoRab™ Rabbit Anti-Camelid VHH Monoclonal Antibody Series
Camelids naturally produce antibodies composed only of heavy chains as compared to the conventional antibodies (Fig 1)The antigen-binding site of these unusual heavy chain antibodies is formed only by a single heavy chain variable domain, designated as single domain antibodies (sdAbs or VHHs). Because of their unique structure, small size and stability, VHHs have several advantages comparing to conventional antibodies or their fragments. Several VHHs are now being studied for use in the diagnostic fields and therapeutic areas, including oncology, infectious, inflammatory, and neurodegenerative diseases.
Rabbit anti-camelid VHH monoclonal antibody series generated by Genscript's proprietary rabbit-mouse hetero-hybridoma technology MonoRab™ provide perfect secondary antibody tools for researchers to identify target-specific sdAbs.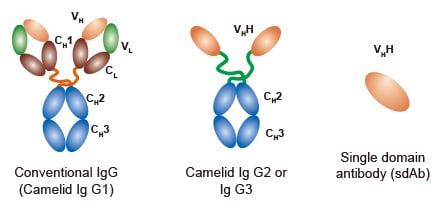 Key Features
MonoRab™ technology guarantees high affinity: Kd ≈ 10-11 M
No cross reactivity with other species
Recognizes the variable domain of camelid (Llama and Camel) antibodies
Specific to camelid IgG2 & IgG3
Recognizes conformational epitope