Upgraded! Anti-idiotype Antibody Services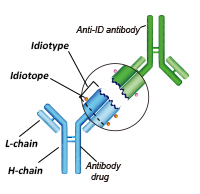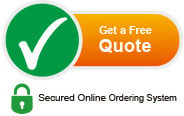 An anti-idiotype antibody (anti-ID Ab, see the schematic diagram) binds to the idiotype of another antibody, usually an antibody drug. An idiotype can be defined as the specific combination of idiotopes present within an antibodies complement determining regions. Since anti-ID Abs are capable of binding to antibody drugs within biological fluids, they are commonly used in preclinical setting for antibody drug pharmacokinetics (PK) and pharmacodynamics (PD). Due to the similarity between anti-ID Abs and anti-drug antibodies, anti-ID Abs are also commonly used as a reference standard for antibody drug immunogenicity, anti-drug antibody (ADA) studies.
GenScript has 14 years experience in developing of highly sensitive and specific polyclonal and monoclonal anti-ID Abs to support your antibody drug development. We try to work as closely as possible with our customers to understand their specific downstream application in order to generate their perfect anti-ID. See our case studies »
We also offer ready-made anti-idiotype antibody products. Learn More »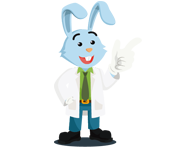 Have GenScript Custom Antibodies Generated Quality Data in Your Experiments? OR Are You Looking for a New Provider of Highly Specific Custom Antibodies?
Calling For Case Studies
15% Off Of Your Next Order
Provide GenScript with a Case Study Highlighting Our Custom Antibodies in Your Experiment to Receive 15% Off Of Your Next Custom Antibody Order
Anti-Idiotype Antibodies
Type
1. Antigen-blocking
2. Non-blocking
3. Complex-specific
Schematic diagram
Feature
Paratope-specific
Not Paratope-specific
Partially paratope-specific
Antigen binding
Inhibitory
Not inhibitory
Not inhibitory
Application
Detect free drug only
Detect total drug (free and bound)
Detect bound drug typically
Selection Guideline

Type 1 or type 2 could be applied to detect antibody drug when having a cell-bound drug target e.g. PD1/PDL1
Type 1 & type 2 may both be needed when having a secret drug target e.g. TNF
Features of GenScript Anti-ID Antibodies Service
Highest Possible Affinity

Perfect for picomolar-level immunoassay sensitivity

Guaranteed Anti-ID Pair

Perfect for ELISA kit development

Stable & Easy Scale Up

Sequence delivery & gram level recombinant Ab supply
Anti-ID Package Details
Quotation and Ordering
Our customer service representatives are available 24 hours a day, Monday through Friday to assist you.