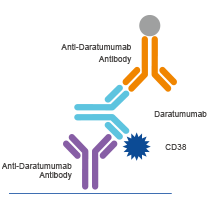 Schematic image of total Daratumumab or the biosimilar (free, partially bound, fully bound) PK study. The assay was developed by using Anti-Daratumumab Antibody, mAb, Mouse (Cat.No. A01996) as capture antibody and Anti-Daratumumab Antibody (6A3), mAb, Mouse (Cat.No. A01997) as the detection antibody.
Note: A01977 was labeled with Biotin in this assay.
| | |
| --- | --- |
| Sensitivity | 39 pg/ml |
| Detection Range | 78-1250 pg/ml |
| Test Samples | Human serum/plasma, mouse serum/plasma |
GenScript provides two types of monoclonal anti-idiotype antibodies used for PK studies to quantify free drug or total drug level.
| Type | 1. Antigen-blocking | 2. Non-blocking |
| --- | --- | --- |
| Schematic diagram | | |
| Feature | Paratope-specific | Not Paratope-specific |
| Antigen binding | Inhibitory | Not inhibitory |
| Application | Detect free drug only | Detect total drug (free and bound) |