Antibody Basics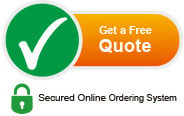 Humans have 5 classes of Abs (interchangeably used with Immunoglobulins or Igs). IgG, IgA, IgD, IgE and IgM. All 5 classes are secreted by activated B cells as glycoproteins. All human Igs possess a basic monomeric "H2L2" structure consisting of 2 Heavy (H) chains and 2 Light (L) chains. Each H chain is paired with one L chain. H chains define the class of Ig [symbolized by Greek letter γ, α, δ, ε, μ] and the L chains are comprised of either κ or λ isoforms. Each Ig possesses 2 defined regions. The upper-half antigen-binding regions (Fabs) and the lower-half crystallizable fragment (Fc). The Fc region is composed entirely of H chain whereas the Fab region consists of both H & L chain domains. In IgG, IgA, IgD classes the Fab is separated from the Fc by a flexible hinge region whereas in the IgE and IgM classes an extra constant domain replaces the hinge resulting in less flexibility of the Fab domains. Additionally, IgA and IgM possess the following.
Tailpiece region that confers ability to form multimers1
J (Joining) chain region that confers ability to bind specific receptors
Antibody production in the body begins by the expression of IgM and IgD on the surface of naïve B cells in response to antigenic stimuli. Through the process of hyper mutation and class switching, high affinity IgGs are produced. Human IgG is further subdivided into IgG1, IgG2, IgG3 and IgG4 isotypes2.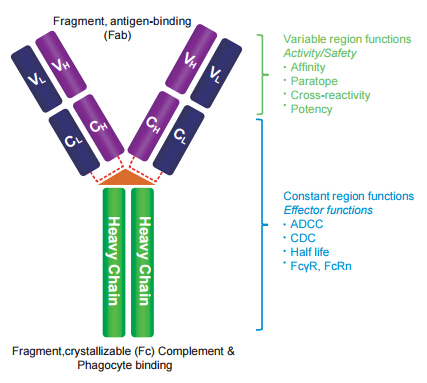 Figure 1: Basic Ab [IgG] structure - Ab is a Y shaped molecule consisting of 2 heavy (H) chains and 2 light (L) chains folded into constant (C) and variable (V) domains. The Fab domain consists of 2 variable and 2 constant domains with the 2 variable domains making up the variable fragment (Fv). The Fv provides antigen specificity of the Ab with the constant domains providing a structural framework. Each Fv contains 3 hypervariable loops known as Complementarity Determining Regions (CDRs). It is the hyper variability of the CDRs that allow an Ab, in theory, to recognize an unlimited number of Antigens. Approximate L chain amino acid residues are 220 and MW is ~25 kDa. Approximate H chain amino acid residues are 455 and MW is ~50 kDa. One L&H chain equals ~75 kDa, thus full length IgG with both L&H chains is ~150 kDa.
Since a vast majority of all therapeutic antibodies employ an IgG1 isotype, it has become the default isotype for many Ab candidates. And hence, more is known about the biology and functionality of IgG1 than any other isotype.
IgG overview
Divalent Abs derived from gamma gene locus
There are 4 isotypes (IgG1, 2, 3, 4)
Half-life of IgG 1,2 and 4 is 2-3 weeks
IgG3 half-life is 1 week
IgGs are the most prevalent Abs found in serum
Approximate MW is 150 kDa
GenScript Antibody Drug Discovery Services
Antibody Discovery: GenScript's Antibody Engineering group can build antibody library with up to 1010 individual clones, to speed up your antibody discovery efforts.
Antibody Sequencing: GenScript's advanced Antibody Sequencing technology offers fast and professional sequencing services for your monoclonal antibodies.
Assays: GenScript has developed several cell-based ADCC/CDC functional assays to profile the efficacy and potency of your therapeutic antibodies using proprietary recombinant effector cells.
Antibody Engineering: GenScript scientists' extensive experience in antibody engineering can provide superior services such as antibody humanization, affinity maturation and more.
Antibody Production: With solid expertise in recombinant antibody (rAb) production techniques, GenScript provides a comprehensive rAb service portfolio that deliver microgram to gram quantities of pure rAb for each stage of your Ab drug discovery program.
PK/PD Study: GenScript offers over 120 tumor and inflammation models for evaluation of in vivo efficacy, PK/PD, biomarker and bioanalysis studies. GenScript Anti-idiotype Antibody services are also a powerful tool for antibody drug PK/PD and immunogenicity studies.
References
Sorensen, V., Sundvold, V., Michaelsen, T. E. & Sandlie, I. Polymerization of IgA and IgM: roles of Cys309/Cys414 and the secretory tailpiece. J Immunol 162, 3448-3455 (1999).
Brandtzaeg, P. & Prydz, H. Direct evidence for an integrated function of J chain and secretory component in epithelial transport of immunoglobulins. Nature 311, 71-73 (1984).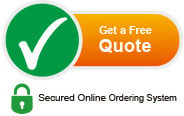 Quotations and Ordering