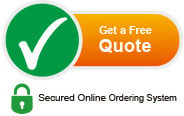 GenScript AmMag™ SA Plus semi-automated system uses magnetic beads technology for purifying proteins and antibodies. The instrument is capable of using twelve 50 ml tubes. In combination with our antibody or recombinant protein binding magnetic beads the system offers high throughput with high capacity. For antibody purification, our AmMag™ protein A magnetic beads or AmMag™ Ni Magnetic beads allow cleaning of the beads with NaOH to increase the reusability.
For secreted proteins magnetic beads may be added to the cell culture so the binding can occur during the expression. Intracellular proteins can be bound once the cell lysis is accomplished. No centrifugation or filtration are necessary saving you hours of pre-processing time.
Key Features of the AmMag™ SA Plus
Purifies up to
12 samples at a time

Sample volumes
from 2 ml to 50 ml

Up to 80 mg of protein or antibody per sample

Typical cycle time for 12 samples is less than 40 minutes

Elute with 0.4 ml buffer
How AmMag™ SA Plus benefits your purification workflow
AmMag™ SA Plus: Save time and simplify your protocol
See Applications Data

AmMag™ SA Plus available for DEMO
For more information, or to request a unit for testing in your own lab, please click on the button below and submit the form or email us at product@genscript.com
Magnetic Beads Technology Webinar: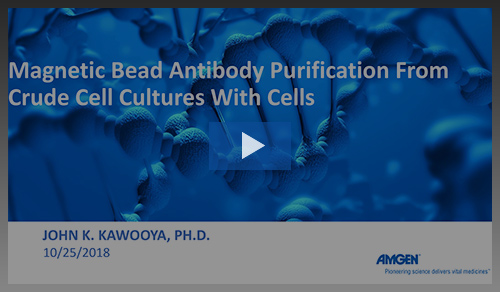 Speaker: Dr. John Kawooya, Director of Biologics Optimization and Discovery Research at Amgen Inc.
GenScript's newly launched AmMag™ SA automates antibody purification using magnetic beads for lead identification.
Review Webinar »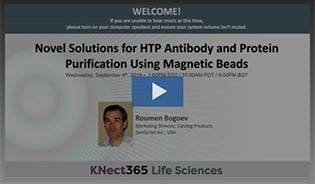 Speaker: Roumen Bogoev, Marketing Director, Catalog Products, GenScript Inc. USA
Review Webinar »
Related Products
Ordering Information Coming soon!