| | |
| --- | --- |
| Biomolecular Interaction Analysis Services | |
Surface plasmon resonance (SPR) is an invaluable tool to characterize real-time molecule – molecule interaction such as affinity and kinetics analysis. With strong expertise, extensive experience, proprietary high throughput screening and affinity ranking technology and a powerful BIAcore T200 in hand, we are capable of satisfying your demands in SPR services in any type, including affinity ranking, affinity measurement and kinetics measurement. GenScript 's Biomolecular Interaction Analysis Services deliver analysis data with high accuracy, reasonable price and high speed.
Key Features:
Extremely high accuracy by professional operation and strict quality control
Unparalleled high-resolution kinetics using BIAcoreT200 with almost no limitation to ligand molecular weight
Fast delivery
Affinity Ranking
Contents
Prices
Timeline

Experiment Setup

Include ranking of first five samples

Please Quote

1-2 weeks

Additional Samples

6-25 samples

Please Quote

26-50 samples

51-100 samples

Above 100 samples
† Only when capture method is available
Kinetics Measurement Service
Kinetics Measurement
Contents
Prices
Timeline

Single pair kinetics measurement

1 pair

Please Quote

1-2 weeks

2-5 pairs

Please Quote

6-15 pairs

>15 pairs

Multiple antibodies to the same antigen

Monovalent Fab/scFv is available

Please Quote

Antigen is monovalent

None of the above *
* Only apparent affinity will be provided
Client provides:
You need to ship your ligand/analyte pair (≥200μg, purity ≥90%) at -20°C or below to GenScript.
GenScript delivers:
Final report with detailed work performance, affinity ranking data and/or kinetics data
1. Sensorgrams of Binding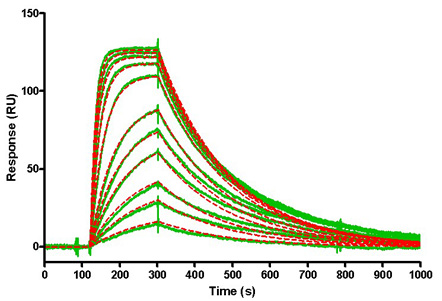 Fig. 1. Sensorgrams of binding of an antibody to an antigen (green solid lines) in a large range of concentrations and their nearly perfect fitting to the 1:1 binding model (red dashed lines).
2. Dissociation Rate Ranking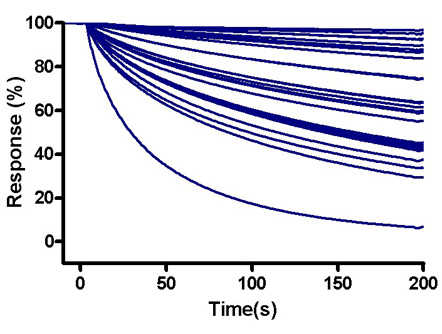 Fig. 2. Ranking of dissociation rates of 48 antibody protein binders to an antigen.
GenScript offers our customers a one-stop solution for all outsourcing needs, providing comprehensive upstream and downstream services of Biomolecular Interaction Analysis Services.

Quotation and Ordering
Please contact us mentioning "Discovery Biology", our customer service representatives are available 24 hours a day, Monday through Friday to assist you with Form preparation.