GenCRISPR™ Cas9 kits
The many unknown aspects surrounding a genome's functions and regulatory framework make it difficult to estimate the impact of a gene-editing strategy. Our ready-to-use kits simplify Cas9-mediated gene-editing, and help you estimate and measure the effectiveness of your gene-editing experiments.
Key applications:
Construct generation

High Efficiency Cas9/gRNA GFP/Puro Plasmid assembly kits
GenCRISPR™ sgRNA synthesis kit

gRNA efficiency screening

Mutation efficiency detection

GenCRISPR™ mutation detection kit
GenCRISPR™ T7 Endonuclease I
Kits
Related Products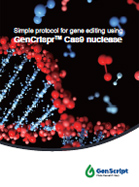 To test one of our Cas9 enzymes, please Click Here.
Download a simple protocol for gene editing using GenCRISPR™ Cas9 nuclease
How to Order CRISPR/Cas9 products from GenScript
Have questions? GenScript's Ph.D.-level service representatives are available 24 hours a day, Monday through Friday, to assist you.