20% off your first order! Coupon applies automatically to new accounts. Offer valid till September 30th, 2020.
ACE2 Stable Cell Lines for SARS-CoV-2 Investigation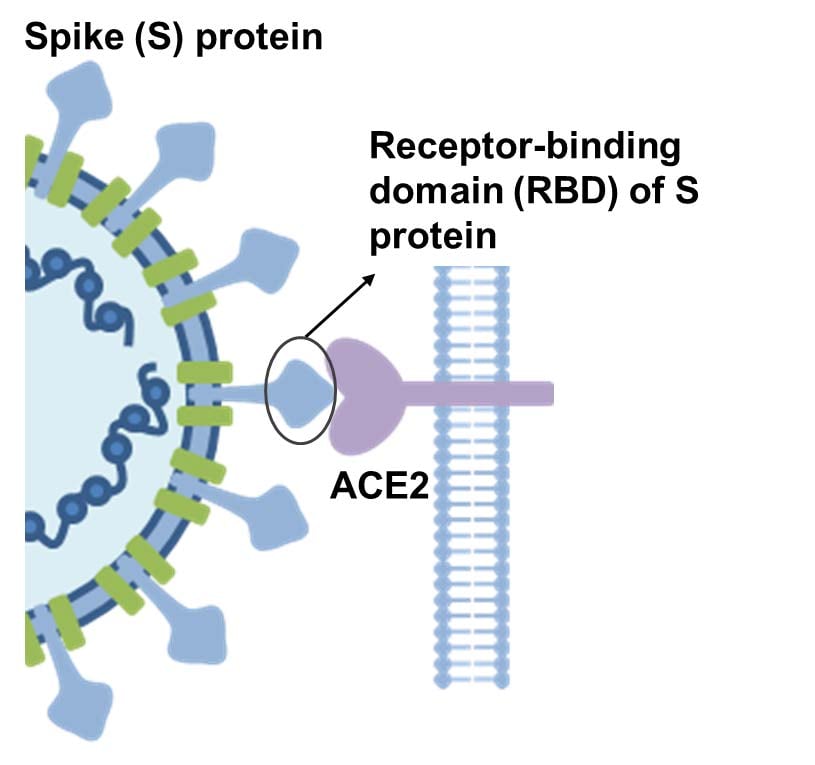 The outbreak of coronavirus disease 2019 (COVID19) has posed a global threat to public health. A novel coronavirus, SARS-coronavirus 2 (SARS-CoV-2), has been identified as the etiologic agent of this disease. Cell entry of coronavirus depends on the spike (S) protein binding to a cellular receptor and priming by a cellular protease. Recent studies demonstrate that angiotensin-converting enzyme 2 (ACE2) serves as the cell surface receptor to bind S protein in SARS-CoV-2 and facilitates entry of these coronaviruses into the cell. Read More »
Key features
Both HEK293/ACE2 and CHO-K1/ACE2 stable cell lines are generated with the features below:
Single clone cell line
Validated for stable hACE2 expression and S protein RBD binding
Easy to use in binding assays or as immunogens
Applications
Neutralization assays to screen antibodies or other molecules that can block pseudovirus or live virus infection
Affinity analysis of antibody or other molecules to Spike protein
In vitro cell models for investigating SARS-CoV-2 infection mechanism
Examples: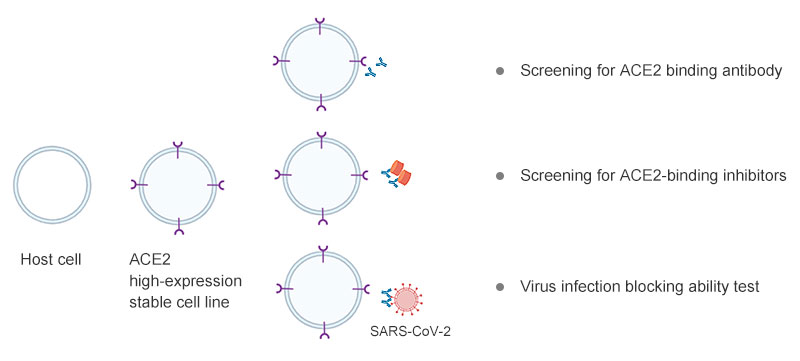 Product list
| Protein of Expression | Cell Line | Cat.No. |
| --- | --- | --- |
| ACE2 | HEK293/ACE2 | M00770 |
| ACE2 | CHO-K1/ACE2 | M00771 |
Related Products Coming Soon!
| Protein of Expression | Cell Line | Cat.No. |
| --- | --- | --- |
| SARS-CoV-2 Spike protein | CHO-K1/Spike Stable Cell Line | M00803 |
| SARS-CoV-2 Spike protein | HEK293/Spike Stable Cell Line | M00804 |
Immune Checkpoint Stable Cell Lines
Inhibitors of immune-checkpoint proteins, such as PD1, PD-L1, VISTA, Tim3 and Lag3, have indicated broad and diverse opportunities to increase antitumor immunity by enhancing T cell activity with the potential to produce durable clinical responses. To meet these needs, we have developed stable cell line products expressing the most popular immune checkpoints to accelerate your immunotherapy discovery and clinical translation. All these stable cells are developed for screening high affinity antibodies against immune checkpoint proteins.
Key features
High protein expression at the cell surface validated by FACS
Stable cell lines for increased reliability and reproducibility (over 15 passages)
Ready to use hot targets, saving 3-5 months
Product list
Receptor
Cell Line
Cat.No.
4-1BB
CHO-K1/4-1BB New
M00538
CHO-K1/mouse 4-1BB
CHO-K1/cyno 4-1BB
B7-H2
CHO-K1/B7-H2
B7-H3
CHO-K1/B7-H3
B7-H4
CHO-K1/B7-H4
BDCA2
CHO-K1/BDCA2
CHO-K1/Cyno BDCA2
CHO-K1/BDCA2 and FcER1G
CHO-K1/ Cyno BDCA2 and FcER1G
BTLA
CHO-K1/BTLA
CD155
CHO-K1/CD155
CHO-K1/Cyno CD155
CHO-K1/Mouse CD155
CD200 R1
CHO-K1/CD200 R1
CD38
CHO-K1/human CD38
M00553
CHO-K1/mouse CD38
M00636
CD47
CHO-K1/CD47
CHO-K1/Mouse CD47
M00631
CHO-K1/Cyno CD47
M00632
CD112
CHO-K1/CD112
CD80
CHO-K1/CD80
M00545
CD103
CHO-K1/ITGAE
CTLA4
CHO-K1/CTLA4
CHO-K1/mouse CTLA4
CHO-K1/cyno CTLA4
GITR
CHO-K1/GITR
HVEM
CHO-K1/HVEM
M00646
CHO-K1/mouse HVEM
M00647
CHO-K1/Cyno HVEM
M00648
ICOS
CHO-K1/ICOS
M00649
KIR
CHO-K1/KIR
M00650
Lag3
CHO-K1/Lag3 New
M00532
OX-40
CHO-K1/OX-40
PD-1
CHO-K1/PD-1
CHO-K1/mouse PD-1
CHO-K1/cyno PD-1
Daudi/PD-1
M00630
PD-L1
HEK293/PD-L1
M00544
CHO-K1/PD-L1
CHO-K1/mouse PD-L1
CHO-K1/cyno PD-L1 New
M00573
PD-L2
CHO-K1/PD-L2
CHO-K1/cyno PD-L2
M00629
VISTA
CHO-K1/VISTA New
M00533
CHO-K1/Mouse VISTA
M00633
CHO-K1/Cyno VISTA
M00634
TIGIT
CHO-K1/TIGIT
CHO-K1/mouse TIGIT New
M00585
Tim3
CHO-K1/Tim3
Fc Receptor Cell Lines
Fc receptor(FcR) types are classified based on the antibodies that they recognize. Different antibody subclasses have unique affinities for each of the Fc receptors. A full portfolio of Fc receptor stable cell lines is here to help you develop in vitro assays and characterize your antibodies, such as antibody binding, affinity, and half-life time test.
Product list
GPCR Stable Cell Lines
GenScript offers a wide selection of GPCR stable cell lines. Proprietary codon optimization and vector design technologies enable GenScript to overcome low functional protein expression at the cell surface. All of the cell lines have been optimized for S/B ratio in calcium flux assays, FRET assays, or chemiluminescent assays.
Key features
Gα15 expressing cells can be used directly for FLIPR analysis
Stable cell lines for increased reliability and reproducibility
Flexible functional readouts are available
Product list