Combinatorial Assembly Library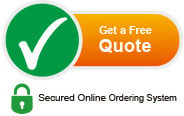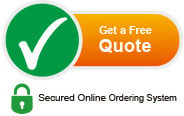 A Combinatorial Assembly Library allows researchers to build custom variants of DNA constructs that combine multiple genetic elements (DNA sequences) in predefined arrangements. Each DNA element is chemically synthesized, allowing complete sequence customization, including codon optimization to boost protein expression levels in your expression host. Components are assembled using seamless cloning techniques according to your specifications. GenScript's strong expertise in de novo gene synthesis, coupled with our new GenPlus™ next-generation gene synthesis technology, allows us to synthesize combinatorial libraries of any size and complexity at an affordable price.
With a Combinatorial Assembly Library, you can:
Design novel genetic components and/or use existing interchangeable modules from the Registry of Standard Biological Parts
Generate modular DNA sequences of any length, up to 10kb GeneBricks
Combine different regulatory elements (promoters, repressors, ribosome binding sites, terminators), coding sequences (ORFs, functional domains), and/or tags useful for monitoring gene expression (GFP, luciferase) or purifying protein (HIS, FLAG, GST)
Combine different genetic circuit components (enzymes, sensors, feedback devices e.g. transcriptional, allosteric, or degradation regulators) for metabolic engineering / genetically engineered machines
100% sequence accuracy is guaranteed.
gene sequences are delivered in the plasmid vector of your choice.
our industry-leading capacity and turnaround time can meet your needs for projects of any size.
Delivery Specifications
10 μg of lyophilized plasmid containing each insert, delivered in tubes or 96-well plates
Up to 2000 unique clones delivered within 4 weeks*
Sequence chromatograms for each variant (electronic)
Construct map for each plasmid (electronic)
Quality assurance certificate
*complex sequences may require longer turnaround time. Our Ph.D.-level gene service representatives will provide a guaranteed delivery date for your project when you request a quote.
Library Design
The size of the library and the strategy for combining components are tailored to your project needs. For example, for a gene construct with 4 variable components appearing in a fixed order: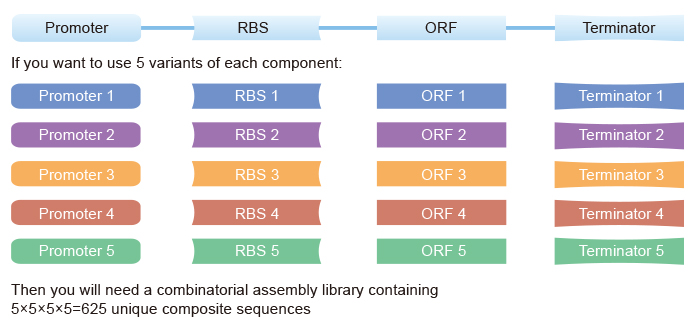 Applications
Potential applications for Combinatorial Assembly Libraries include:
Synthetic Biology

Discovery Research: Screen thousands of unique clones that express different combinations of modules
Metabolic Pathway Engineering: Selecting/Screening for synthetic gene circuits (multi-gene functional networks)
Genome Engineering: high-throughput synthesis of nucleases-or CRISPR/Cas9-based constructs for genome editing



Protein Engineering

Create new multi-domain proteins for structural or functional screening
Optimize protein function through directed evolution
Generate Recombinant Protein or Chimeric Antibody libraries for high-throughput screening for biologic drug discovery/development



Regulating Gene Expression

Determine the optimal combination of promoter, ribosome binding site, terminator, and other regulatory elements for your construct/expression system.
Create a library of reporter-gene constructs for systematic promoter analysis
Express a gene under the control of different promoters, e.g. for inducible or tissue-specific manipulation of lethal or developmentally vital genes
Combinatorial Assembly Libraries are emerging as powerful tools relevant across many disciplines of life science research, from plant biology to drug development. Gene synthesis has long been used to create customized genetic components that have contributed to important advances in synthetic biology. With the maturation of gene synthesis technology, GenScript is pleased to offer cost-effective synthesis of gene variant libraries customized for your needs. We're looking forward to seeing how our Combinatorial Assembly Libraries help researchers continue to push the boundaries of biotechnology and drug discovery!
Orders can be placed by phone, email, or fax with a formal PO (Purchase Order) or credit card.
Our global team of Ph.D.-level gene service representatives are available 24 hours Monday through Friday by email or phone
( 1-732-885-9188). We can discuss your library construction needs and help manage your projects from sequence design, optimization, synthesis, cloning and beyond without any additional charges (certain Terms and Conditions Apply).
Custom project details are kept strictly confidential, with all intellectual property rights belonging to the client. GenScript does not claim any rights to specialized synthetic or OptimumGene™ codon optimized genes.