PISCATAWAY, N.J., June 12, 2018 /PRNewswire/ -- A promising experimental HIV vaccine was reported in Nature Medicine on June 4, 2018 by Kai Xu and colleagues from Drs. Mascola and Kwong labs at the Vaccine Research Center (VRC) at the National Institute of Allergy and Infectious Diseases (NIAID), part of the National Institutes of Health (NIH), and Rui Chen and Lu Yang from GenScript. This study represents a major breakthrough in HIV vaccine development. Plans are underway to test this vaccine concept in a phase 1 study in the second half of 2019. Read more »
---
GenScript - The 2018 Award Winner for CiteAb's "Most Popular Custom Antibody Supplier"
This award recognises GenScript as the company with custom antiobdies cited more than any other. From the data generated through CiteAb we are able to gain a really clear picture of the way antibodies are used around the world. We can tell which countries are investing most in research using antibodies, which companies are seeing growth or decline, which antibodies are most successful and which areas of research are seeing growth.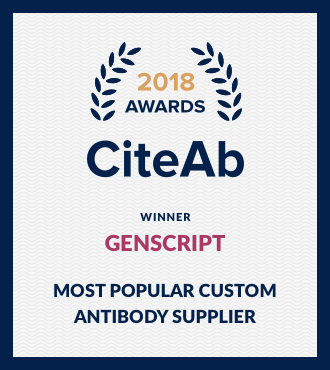 "This award goes to GenScript as the company that has secured the most custom antibody citations between 2015 and 2017. The company has clearly developed significant reach into the custom antibody market allowing them to help a large number of researchers, and I congratulate them on winning this award."
- Dr Andrew Chalmers, Founder of CiteAb
CRO Leadership Awards
Genscript won in 4 categories–Quality, Productivity, Innovation, and Reliability-of 2014 CRO Leadership Award from Life Science Leader magazine.  The awards are based on a survey of 10,000 pharm and biopharm managers measuring perception of CROs in 5 categories.  The customers picked GenScript as one of the winners.
"At Life Science Leader, we think having data-driven awards is more objective and valuable than having those awarded as a result of a nomination and voting process. The winners should be proud of these awards because they were determined by data gathered from customers," - Rob Wright, Editor in Chief, Life Science Leader.