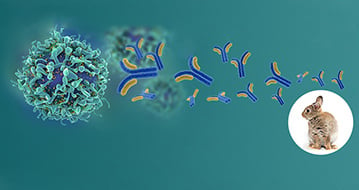 MonoRab™
Increase mAb Specificity with GenScripts Premier Rabbit mAb Generation Service.
Perfect fit for Anti-ID and IVD Applications!
MonoRab™ Custom Rabbit mAb Generation Service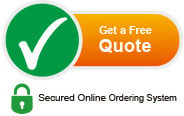 GenScript's MonoRab™ technology generates high quality rabbit monoclonal antibodies for a price that is 50-80% less than our closest competitor. Our proprietary hetero-hybridoma methodology includes an optimized fusion partner to improve overall fusion efficiency while utilizing the rabbit's natural ability to generate high specificity, high affinity mAb's against a wide range of difficult targets such as small molecules, Ab drugs, and even antigens non-immunogenic in mice.
MonoRab™ is a full scale service including antigen preparation, rabbit immunization, recombinant antibody production, and antibody sequencing; ensuring ultimate levels of reproducibility and mAb purification. Talk to our technical specialists today to learn why GenScript's MonoRab™ service is perfect for everything from basic research,to in vitro diagnostics (IVD), anti-idiotype (Anti-ID) mAb generation, and more. Get a quote to let GenScript help make your research easy today!
Exceptional Specificity & Sensitivity

Picomolar KD levels Elicits an immune response not
immunogenic in mice

Extremely Fast Turn Around Time

From antigen sequence to purified mAb in as little as 4 Months
Cuts the production time in half

Most Cost Effective Pricing

50% OFF of your first order;
No extra licensing or royalty fees
Milestone
Details
Times (weeks)
Immunogen preparation

Antigen production
KLH conjugation for peptide Ag

3
Animal Immunization

New Zealand White Rabbit
2 Animals/group
# groups optional

10-12
Cell Fusion, Screening, Subcloning & Ab Sequencing

1 Electro fusion of up to 150 96- well plates
ELISA supernatant screening
Subcloning
V-region sequencing of up to 10 monoclones
Up to 10 parental clones selected for customer analysis
Up to 5 clones selected by Client

10-11

FREE

Epitope Binning

Free epitope binning service included in every MonoRab™ purchase
Service includes epitope binning on 5 monoRab™ chosen after in house screening

0.5
Optional Recombinant Ab Production

Up to 5 clones selected by client
Ab expression and purification from plasmid
QC with ELISA, SDS-PAGE, & OD280nm

4-5
Included QC/Validation
High Throughout ELISA
High Throughput FACS Analysis
Epitope Binning
SDS-PAGE
OD280 nm
Milestone
Deliverables
Immunogen preparation
Isolated protein or peptide
Animal Immunization
Test bleed report OR 5 mL sample after 3rd boost
Cell Fusion, Screening, Subcloning & Ab Sequencing

Up to 10 supernatants sent to customer for in house analysis
mAb sequencing report for up to 5 clones with supernatant

FREE

Epitope Binning
Epitope binning report
Recombinant Ab Production
1 mg purified Ab for each clone
Milestone
Mid-Project Options
Immunogen preparation
 
Animal Immunization

Modify immunization strategy
Proceed with fusion

Cell Fusion, Screening, Subcloning & Ab Sequencing

Alter screening
Select up to 5 monoclones for sequencing
Continue with other services: Ab screening, Ab production, ect

FREE

Epitope Binning
 
Recombinant Ab Production
 
Application
Description
Exceptional Immunization with Difficult Antigens

Nanobodies
Small molecules
Extremely similar epitopes
Non-immunogenic in mice
Phosphorylated antigens

Perfect for use in In Vitro Diagnostics (IVD)

Immuno-detection of drug compounds in serum or other biological samples
Immunoassay development for therapeutic antibody development

Incomparable Anti-Idiotype (Anti-ID) mAb Generation

Ab targeting the Ag binding site of another Ab
Tracking Ab drug in serum or biological fluid
Powerful for Ab drug PK, PD, and immunogenicity studies
A The cross reactivity rate of GenScript produced anti-Ractopamine (small molecule) rabbit mAb is 0.0304%, showing low cross reactivity rates with similar compounds.
B GenScript produced anti-idiotype rabbit mAb 90G12F8 binds with Pembrolizumab (mAb drug) with an EC50 of 5.001 ng/ml as shown via ELISA.
C Genscript produced N-Terminal anti-flag-tag rabbit (section 1) mAb shows higher specificity and affinity than those produced in mouse (section 2) as shown via western blot.
D GenScript produced anti-idiotype rabbit mAb 90G12F8 has a KD valu e of 2.3x10-12 M against the antibody drug (Pembrolizumab) as shown via ELISA.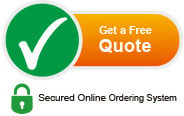 Quotations and Ordering

Our customer service representatives are available 24 hours a day, Monday through Friday to assist you.