eStain™ L1 Protein Staining System
Offer valid until Dec 31st:
30% OFF + 2 Free Kits
Get Quote
10-min Protein Gel Staining with ultrasensitivity and simplicity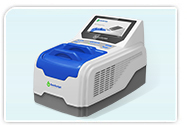 Fast: stain/destain in 10 min or less
Automatic: reagents are pumped in/out automatically
Sensitive: sharply stained protein bands and sensitivity ≥ 12.5 ng
Efficient: simultaneously stain/destain two mini gels
Reliable: evenly stain and highly repeatable results
eStain is a highly efficient protein PAGE gel staining system, which uses Coomassie Brilliant Blue and a patented protein staining technology developed by Genscript. eStain staining system integrates the traditional three steps of fixing-staining-destaining into one and can stain/destain two protein PAGE gels simultaneously in 10 minutes or less.
eStain works with all types of precast as well as homemade PAGE gels. Compared with the conventional staining methods, gels stained by eStain have crisp blue bands with minimum or no background. eStain also offers superior sensitivity compared to conventional methods and can detect as low as 12.5 ng of protein.