Endotoxin Removal Service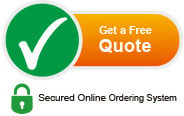 Lipopolysaccharides (LPS) are major constituents of the cell walls of gram-negative bacteria and they act as endotoxins to elicit strong immune responses causing hypotension, organ failure, disseminated intravascular coagulation, and fatal shock in mammalian hosts. The removal of these endotoxins is necessary for downstream applications, such as in vivo studies, protein vaccine development and immuno-cell based assays.
GenScript's Endotoxin Removal Service can effectively reduce the endotoxin level below 10 EU/mg during recombinant protein production with a success rate of 98%. We have successfully delivered >500 low-endotoxin protein production projects that meet our clients' strict endotoxin control requirements.
Workflow
GenScript offers one-stop low-endotoxin protein production solution including protein expression and purification and endotoxin removal. Endotoxin control and removal starts from the instruments and reagents, stays with the all manipulation and it is finally achieved by multiple endotoxin removal techniques.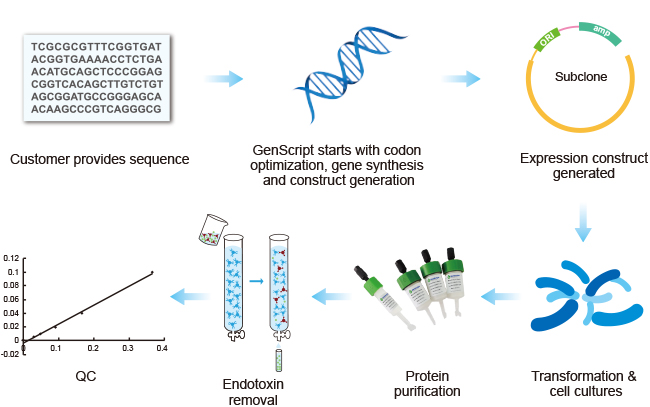 Advantages
High efficiency on endotoxin removal---Guarantee endotoxin level as low as <10 EU/mg
Multiple strategies to solve the endotoxin problem, success rate at 98%
One-stop services from gene to low-endotoxin protein for your downstream application
Estimate protein loss rate in the beginning of protein production project to ensure the delivery of sufficient low-endotoxin proteins
| Catalog | Description |
| --- | --- |
| SC1832 | Endotoxin removal service, ≤1 EU/μg |
| SC1831 | Endotoxin removal service, ≤0.1 EU/μg |
| SC1833 | Endotoxin removal service, ≤0.01 EU/μg |
Quotations and Ordering
To place a quotation, click and send us completed form by email
To place an order, please email the same form along with a PO (Purchase Order) or credit card information
If submitting samples, please send them along with the above form to: Recombinant Protein Services, GenScript, 860 Centennial Ave., Piscataway, NJ 08854, USA
For any other inquiries, please contact us using the details listed below