ExpressPlus™ PAGE Gels

Compatible with more gel tanks!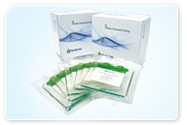 Large Loading Volume: Twice as large as the common gel on the market
Long Shelf Life - Up to 12 months if stored at 2-8°C.
High Reproducibility: Consistent performance from gel to gel.
10×10 series
GenScript ExpressPlus™ PAGE Gels have been upgraded to a 10×8 and 10×10 series compatible with more gel tanks. More researchers can experience precast gels with a shorter running time, larger loading volume, higher transfer efficiency at affordable prices. The ExpressPlus™ PAGE Gels are cast in a weak acidic pH environment that minimizes the hydrolysis of polyacrylamide and results in extra gel stability and superior band resolution.