As one of the world's leading suppliers of gene services, GenScript has been constantly innovating the ordering experience to make it more convenient. GenScript's GenSmart™ is an intelligent online assistant system powered by big data mining and machine learning technology, which can fulfill your requests in 3 minutes. Drawing you out from the complicated and time-consuming ordering process, GenSmart™ is capable to generate the most time- and cost- effective strategy to obtain all your clones of interest.
Make Molecular Cloning Easy
Resource Saving: Maximize the use of GenScript ORF products and your archived clones as templates to get new constructs.
Time Saving: No need to design cloning strategy by yourself, GenSmart will develop the approaches for every single clone for you.
Easy Ordering: Just tell GenSmart your desired constructs, and get the package perfectly assigned to each construct.
Why Choose GenSmart™ AI
GenSmart AI
Conventional Online Ordering
Insert sequence
Fill in or import (upload) your sequences, multiple files supported (e.g. .txt, .gb, .gbk, .fasta and .dna)
Several approaches to get sequence, have to choose options among

De novo gene synthesis
ORF clones
Mutagenesis

Vector
Select your vector from our list of available 
Several cloning methods to manually choose

Subcloning
Direct cloning
Other cloning methods or service

Plasmid Preparation
Select your desired quality and quantity of plasmid prep for your order
Please choose

Will you be using your clone or another clone as a template??
Your desired quality and quantity

Ordering
GenSmart™ optimizes cloning strategy
Manually select services for your needs, from cloning strategy design to ordering data entry, not guaranteed to give you the best price based on your selections
To You 
Save time and money from best use of existing templates and optimized cloning strategy; Focus on quality, value-add work, increased motivation and less overtime
More time on repetitive, routine, high volume but unnecessary work
How GenSmart Works
GenSmart™ automatically calculate all criteria, e.g. price and turnaround time, to optimize cloning strategy and select optimal approach to get your sequence. More archived clones and vectors in GenScript, more reasonable price and turnaround time for your project.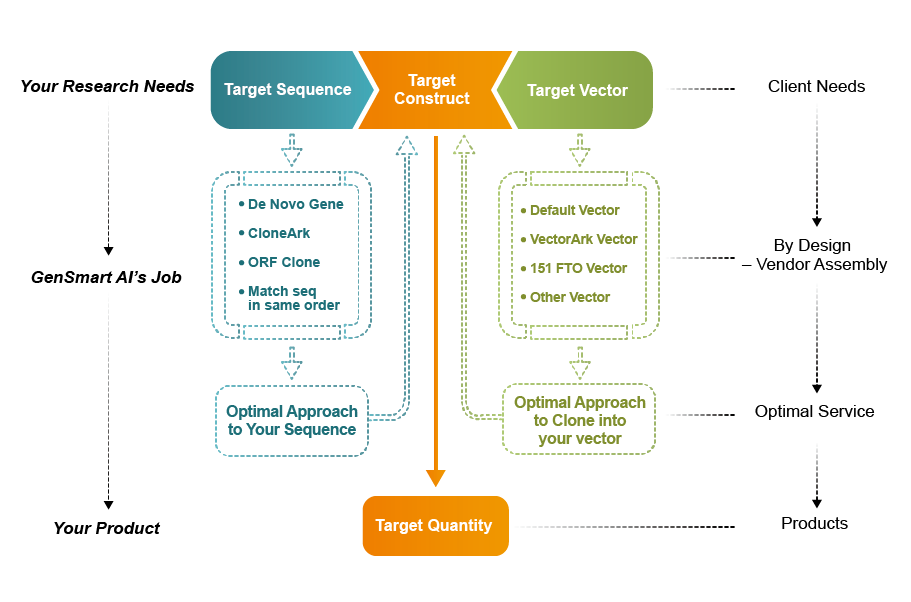 Ordering


Orders can be placed online with a formal PO (Purchase Order) or credit card. Our gene service representatives are available 24 hours Monday through Friday. You may contact us anytime for assistance.