Downstream Molecular Biology Services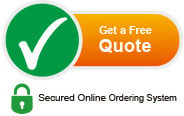 GenScript offers one-stop solutions so that you can receive the exact reagents you need for your experiments without having to do further molecular biology in your lab. Our comprehensive downstream services include seamless cloning into any vector, site-directed mutagenesis, and plasmid prep. Our services are highly flexible to accommodate your specific project requirements, and our Ph.D.-level technical account managers can work with you to build the most economical package for your needs. Free your energy and time from routine reagent preparation for more creative research!
Downstream Services for Gene Synthesis
Advantages

Seamless cloning into any vector with recombination-based GenBuilder™ technology


Express Cloning offers >100 popular expression vectors with no need to mail an aliquot of the vector 
See Vector List

any combination of mutations within a 30-base frame

Choose from Research or Industrial Grade: ≥ 95% Supercoiled DNA, ≤ 0.005 EU/μg Endotoxin
GLP and sterile filtering options available
Animal-free process with stringent quality-control measures

Starting Price
(in addition to price for gene synthesis)

$49/construct

$149/mutation

$50 for 100 µg

Turnaround time
(in addition to time for gene synthesis)

2 business days

 5 business days

5 business days

How to Order
Molecular Biology Services for your template DNA
If you want to outsource molecular biology work employing template DNA you already have (without de novo gene synthesis), we offer the following services:
Cloning

from customer-provided templates

Cat #

SC1622

SC1023

SC1098

Starting Price

$295/construct

$169/mutation

$50 for 100 µg

Notes

For genes shorter than 1 kb. For longer genes that require full sequencing, we add an additional $100 per kb for screening and sequencing. Certain non-commercial vectors may incur additional charges.

For genes less than 1 kb in length. For genes longer than 1 kb, an additional $100 per kb will be applied. One mutation is defined as any combination of mutations within a 30-base frame.

 For 100 mg of Research grade plasmid DNA. Preps up to multi-gram level, Industrial Grade, and options for GLP and sterile preparation are available at additional cost.

How to Order
Please request a quote using the links above, and our Technical Support Representative will contact you within 24 hours with pricing and timeline information tailored to your request.