GenParts™ DNA Fragments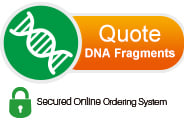 GenParts™ are linearized, double-stranded DNA fragments or DNA blocks, which can be used directly or cloned into your vector or choice. With GenParts™ you can:
Generate natural or synthetic sequences without a template
Assemble fragments into larger DNA blocks
Avoid primer design and PCR optimization
Get your DNA in half the time required for standard gene synthesis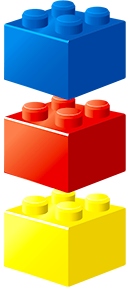 Free Assembly Kit with Your GenParts Order!
When you order any GenParts DNA fragment throughout the month of February, you will receive a free GenBuilder Plus assembly kit! Place your order today while supplies last. Promotion Details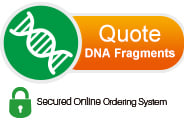 GenParts™ Service Guarantee
Guaranteed on-time delivery of your order
Guaranteed low error rates in your fragments
If we can't get it right, we will either repeat the synthesis of the failed fragment free of charge or refund your money. For more details about our service guarantee, check out our Quality Assurance & Production section below.
Catalog No.
Base Pairs
Yield (ng)
Min. No. of Clones for Screening *
Production Time *
Pricing
GenParts™ DNA Fragments (SC1930)
100-500
500ng
5
2-4 Days
$89
501-750
500ng
5
2-4 Days
$119
751-1000
500ng
5
2-4 Days
$149
1001-1250
500ng
6
5-7 Days
$199
1251-1500
500ng
7
5-7 Days
$249
1501-1750
500ng
8
5-7 Days
$279
1751-2000
500ng
10
5-7 Days
$299
*Production time is calculated using business days.
*Orders placed before 12:00PM EST (on business days) will be considered ordered on the same day.
*Domestic orders placed within the US are delivered by overnight shipping.
*For international order shipping inquiries, please contact us directly.
*The indicated "Minimum Number of Clones for Screening" is to have >90% chance of obtaining your desired clone for a DNA fragment with a standard (i.e. not identified as complex by our quotation system) sequence.
Experimental Applications & Assembly Methods
How GenParts can be used:

Gene assembly
Inserts for molecular cloning
Quantitative PCR controls
Templates for in vitro transcription
Templates for homology directed repair
DNA blocks for library assembly and high-throughput screening
How GenParts can be assembled:

Restriction enzyme cloning
Isothermal assembly methods, including:
Golden Gate Assembly
T/A Cloning
Learn More About DNA Fragments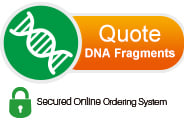 GenParts™ Ordering Process
For quotations, orders, and other inquiries for gene fragment synthesis, you may contact us by phone, fax, email, or our secured online ordering system.
Our customer service representatives are available 24 hours Monday through Friday.
You may contact us anytime for assistance.
Promotion Details
Promotion is valid for SC1930 only.
This offer is valid through 02/28/2019.
Promotion is automatically applied during checkout.
Valid for customers in US and Canada only.
Only one free kit is offered per customer.
The GenBuilder Plus Kit is shipped with the GenParts order unless the kit is back-ordered. In that case, the kit will be shipped separately.