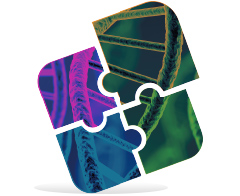 GenScript Gene Fragments
Get guaranteed turnaround times on your DNA synthesis by using GenScript Gene Fragments.
GenScript Gene Fragments are linearized, double-stranded blocks of DNA, which can be easily assembled into your vector of choice. Gene Fragments can save you more than half the time and cost of standard gene synthesis.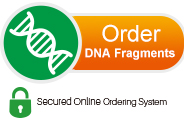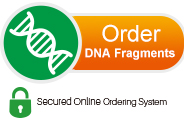 Promotion: Save an additional 20% off your gene fragments through Mar 31st!
Promotion applies only to SC1930 Gene Fragment orders.
Promotion cannot be combined with any other promotions or special pricing agreements.
Always start your projects on time with the only Gene Fragment Guarantee offered in the world:
GenScript guarantees our production times on all standard sequences.
GenScript guarantees a minimum yield of 500ng for DNA fragments up to 1000bp.
GenScript guarantees a minimum yield of 1000ng for DNA fragments up to 2000bp.
Catalog#
Base Pairs
Yield
Production Time*
Pricing
Gene
Fragments
SC1930
100-500
500ng
2-4 Days
$89
501-750
500ng
2-4 Days
$119
751-1000
500ng
2-4 Days
$149
1001-1250
1000ng
5-7 Days
$199
1251-1500
1000ng
5-7 Days
$249
1501-1750
1000ng
5-7 Days
$279
1751-2000
1000ng
5-7 Days
$299
*Production time is calculated using business days.
*Depending on the location, shipping may add 1-2 days to the delivery time.
*Orders placed before 12:00PM EST (on business days) will be considered ordered on the same day.
The GenScript Gene Fragment Guarantee
At GenScript, we realize how valuable and important your time is. Faster assembly and cloning of your genes means more time to work on the real experiments.
Through many rounds of testing, GenScript has perfected the production and distribution process to make sure you always get your gene fragment products on time. Be cause gene synthesis is a science, not an art.
With confidence, we'd like to extend the following guarantees to our customers:
GenScript fully guarantees our production times on all standard, non-complex sequences.
GenScript fully guarantees a minimum yield of 500ng for DNA fragments up to 1000bp.
GenScript fully guarantees a minimum yield of 1000ng for DNA fragments up to 2000bp.
Per our guarantee, GenScript will reimburse the cost of any gene fragments that have not meet our minimum yield or turnaround time requirements, in addition to providing the fragments you've originally ordered.

Our Workflow
Every gene fragment synthesized by GenScript follows our ISO9001:2008-certified production and quality assurance process:
Sequences between 100-2000bp are designed and entered onto our gene fragment design tool.
After order entry, sequences are reviewed by our automated screening algorithms to flag and alert customers of any potential complexities or irregularities within their sequences.
After automated screening, PhD-level GenScript technical support scientists personally review sequences to:
Upon customer request, conduct codon optimization with our GenScript-patented OptimumGene algorithms Learn More.

GenScript sequence optimization can increase protein expression by up to 100x when compared to native sequences and by up to 50x when compared to design tools based solely on codon usage tables.

Determine the synthesis feasibility of complex or irregular sequences.
Screen gene fragment orders for regulated pathogen sequences in accordance with International Gene Synthesis Consortium (IGSC) standards.
The GenScript production team utilizes our patented DSOpt™ sequence analysis tool for oligo design and assembly of your gene fragments.
GenScript DNA synthesizers can each generate up to 768 oligos in a single run via phosphoramidite chemistry.
Gene fragments are assembled using our GenBuilder platform.
Gene fragments undergo our error correction process, which removes mispaired bases.
Each gene fragment is size verified by capillary gel electrophoresis prior to shipment.
These procedures establish a high standard for quality performance, over 90% of screened clones will contain the sequence of interest for a majority of Gene Fragment projects.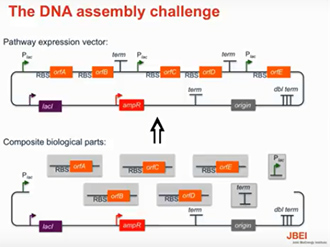 Webinar Highlight:
Designing Flanking Homology for DNA Assembly
Speaker:
Director of Synthetic Biology Informatics at the Joint BioEnergy Institute Head of BioDesign at Lawrence Berkeley National Laboratory

Dr. Nathan Hilson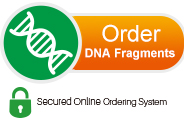 Quotes and Ordering Process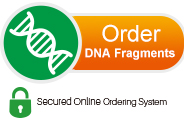 For quotations, orders, and other inquiries for gene fragment synthesis, you may contact us by phone, fax, email, or our secured online ordering system.
Our customer service representatives are available 24 hours Monday through Friday.
You may contact us anytime for assistance.