GenSmart Codon Optimization
As a leading synthetic DNA provider, GenScript is dedicated to using the latest advancements to update existing algorithms for improving gene expression. Our most recent development is GenSmart™ Codon Optimization, is a free, user-friendly online tool that enables you to optimize the design of wild type and recombinant gene sequences for higher expression in prokaryotic and mammalian expression systems.
GenSmart™ Codon Optimization uses a newly designed algorithm based on the "Population Immune Algorithm", which takes advantage of both population genetics and immunology theories. In this approach, more than 200 factors involved in gene expression, including GC-content, codon usage and content index, RNase splicing sites, and cis-acting mRNA destabilizing motifs, are screened and validated. Instead of applying a single-factor simulation to computing, a multifactor approach is employed to ensure that all key factors in a certain target gene sequence carry weight. As a result, each gene optimization is fully customized to maximize the chance of obtaining a functional and active protein.
Compared to similar tools, GenSmart™ Codon Optimization is more accessible and user-friendly. All of the parameters are integrated into the algorithm and require no input from you. All that is required is your sequence and desired host organism; the rest is taken care of by the optimization tool. In addition, your optimized sequences can be easily ordered through GenSmart Instant Quote System or archived for future use.
Key Reasons to choose GenSmart™ Codon Optimization:
Accessibility: Free, online tool; just one click away to your optimal sequence
Comprehensive Factor Analysis: Over 200 factors screened and validated
Advanced Computing: Patented population immune algorithm to ensure the best output
Individual Sequence-Based: Highly customized computing to avoid weight allocation bias on key factors
Easy Ordering: Seamless integration with GenSmart Instant Quote System
Case Studies
1. GenScript Data
GenSmart™ Codon Optimization increases protein expression levels of GFP and JNK3, 18-fold and almost 8-fold, respectively, compared to non-optimized native gene sequences.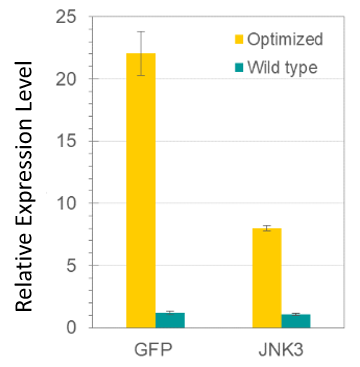 2. Customer Data
Dr. David Liu's team at Harvard University compared the editing efficiency of codon optimization tools from four different vendors, including GenScript's codon optimization tool. His team found that gene expression levels are critical to editing efficiency and among all tested and optimized variants, those optimized by GenScript were superior to other tools.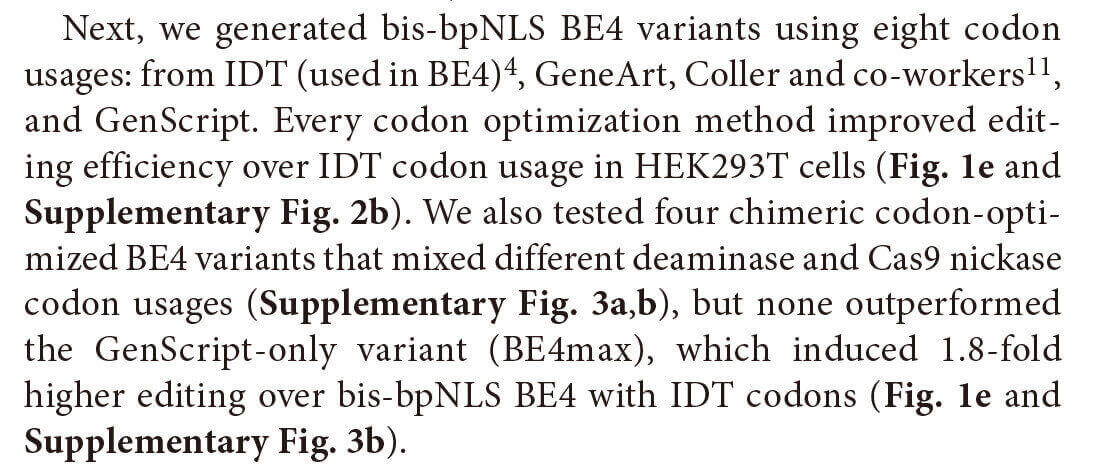 Reference:
Koblan WL, Doman JL, Wilson C, et al. 2018. Improving cytidine and adenine base editors by expression optimization and ancestral reconstruction. Nature Biotechnology volume 36, pages 843-846