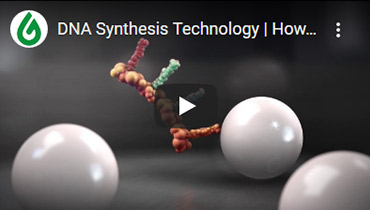 GenPlus High-throughput Gene Synthesis
The GenPlus platform utilizes a next-generation, silicon-arrayed production process capable of synthesizing over 7,000 genes in a single run. Miniaturizing the DNA synthesis process allows for industrial scalability, enabling production on the scale of entire genomes.
The GenPlus Service Advantage
Don't settle for only 80% of the sequences you order

GenPlus is the only high-throughput platform that can deliver every sequence in your order, even those with high complexity.

Save more with GenPlus Cloning

Get FREE Cloning on standard vectors and $20 cloning on custom vectors.

Guaranteed sequence fidelity for every plasmid

Avoid complex NGS readouts, GenScript provides a Sanger sequencing readout for each plasmid.

Free backup storage for all of your projects

GenScript provides CloneArk™ plasmid storage for recovery in the event of an accident.

Free codon optimization for each sequence

Improve gene expression by up to 100x with our OptimumGene algorithms.
Service Specifications
Catalog #
Length
Yield
Production Time
Starting Price
GenPlus Gene Synthesis SC1645
300 bp - 1,499 bp
4 μg (1 μg for low-copy plasmid)
18-20
Business Days
$0.15/bp
Minimum Charge $60/gene
1,500 bp - 2,999 bp
4 μg (1 μg for low-copy plasmid)
20-22
Business Days
$0.18/bp
3,000 bp - 8,000 bp
4 μg (1 μg for low-copy plasmid)
Quote
$0.26/bp
Catalog #
Type
Description
Pricing
GenPlus Cloning SC1669
Standard
pUC57-Kan / pUC57-Amp
Free
VectorArk™
Customer Archived Vectors
$20
Custom
Custom Vectors
$20

*Turnaround times listed are estimates based on non-complex orders, some complex sequences may require additional time for synthesis. For a more accurate estimate, please request a quote. Learn more about gene sequence difficulty rules >>
*Orders are deliverable in either single tube or 96-well PCR plate formats at no additional charge.
Service Applications
The GenPlus high-throughput platform allows for engineering and discovery at a previously unheard of scale. Research and commercial applications for the technology include:
High-throughput Screening - Synthesize and express every gene in your project
Genome Synthesis - Build synthetic genomes and incorporate your own design/variant elements
Protein/Antibody Engineering - For variable region design, typically between 300-400 bp in length
Metabolic Pathway Engineering - Test gene variants to optimize your metabolic pathway efficiency
Vaccine Development - Express and screen recombinant viral protein vaccines
The GenPlus Quotation & Ordering Process


If you have your sequences ready, save time and money with our GenSmart™ Instant Quote platform and instantly receive an online quote! Select "High-throughput" as production speed.
If you need help on your sequences, you can:
Complete the Quotation Form and upload to our Online Request Server;
Email your request directly to

[email protected]

;
Call us at (877) 436-7274.
Our Ph.D. level support team will contact you within 24 hours to help with your design.
A technical account manager will email you within 1 business day to finalize your quote.
Our Ph.D.-level technical support team is available 24 hours a day, from Monday through Friday by email or phone (1-732-885-9188). We can help manage your projects from sequence design, optimization, synthesis, cloning and beyond.
GenScript keeps all customer project details strictly confidential and clients maintain all intellectual property rights belonging to their projects. GenScript does not claim any rights to any synthetic or OptimumGene codon-optimized genes.