One powerful application of CRISPR/Cas genome editing technology involves the precise insertion of DNA sequences via the homology-directed repair (HDR) pathway. While many factors may affect the efficacy of this approach, choosing the right HDR template is certainly an important one. GenScript now offers high quality, sequence verified HDR templates for maximizing the editing efficiency of your CRISPR experiments.
CRISPR HDR Knock-in Templates
GenExact™ ssDNA

✔ 150-5,000 nt
✔ Minimal cytotoxicity Ref1
✔ Precise knock-in, minimized off-target effect
✔ µg to mg scale
✔ High purity and sequence verified
✔ Research to basic GMP grade

GenWand™ dsDNA

✔ 2-10 kb
✔ Covalently closed ends protection for better accuracy Ref2
✔ More suitable for scale up
✔ µg to g scale
✔ High purity and sequence verified
✔ Research to basic GMP grade
Resources
─ Highly efficient non-viral T cell engineering process at clinical scale with GenExact™ ssDNA
Collaboration with Marson's lab from UCSF (University of California San Francisco) showed that:
GenExact™ ssDNA consistently outperformed in-house generated HDRTs (homology-directed repair templates), showing lower levels of toxicity and higher knock-in efficiencies;
The KI efficiency of GenExact™ ssDNA via electroporation without any enhancer can reach to 46.2% at a GMP-compatible scale;
KI positive live cells count generated by GenExact™ ssDNA was way above estimated patient dose (100*10e6). In vitro assays demonstrated efficient killing of BCMA-CAR cells.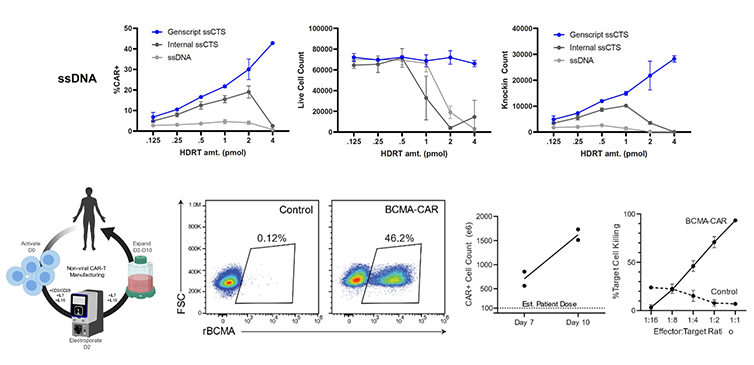 Brian R Shy. et.al., bioRxiv(2021), Read the whole article.
─ Case Study
Long hybrid ssDNA HDR templates enable high yield non-viral cell therapy manufacturing
In collaboration with the Marson lab at the Gladstone-UCSF Institute of Genomic Immunology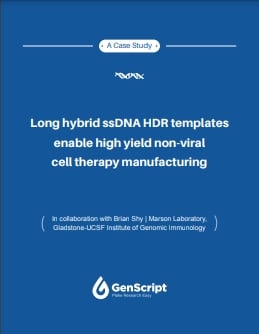 ─ GenWand™ dsDNA outperforms PCR products in knocking in larger genes
GenWand™ dsDNA demonstrated 80% higher KI efficiency compare to in-house PCR dsDNA (38% vs 21%)
GFP KI at RAB11A Locus in HEK293 cells using electroporation with 5ug of PCR dsDNA and GenWandTM dsDNA templates.
Want to know more about our CRISPR services?
Fill in this form and our team will reach out to you