Customized Insect Expression Package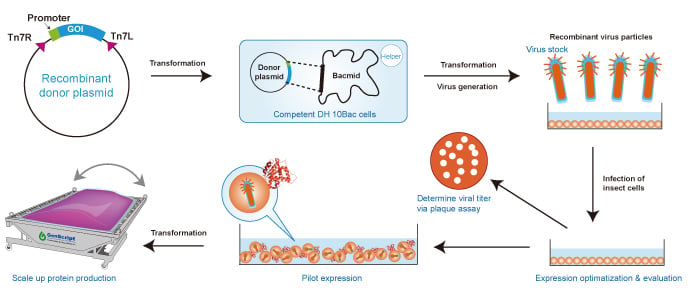 Customized Protein Package
For customers who wish to establish the best possible protocol for their project and then scale up, GenScript recommends using the sophisticated platform to explore different conditions for the expression of target proteins.
Milestones
Specifications
Deliverables
Timeline1
1. Subcloning

Subcloning into one or more expression vectors

Construct(s) report

2 weeks

2. Viral generation

Generation of recombinant Bacmid DNA
Transfection of insect cell with recombinant Bacmid DNA
Generation of P1 stock (Low titer), P2 stock (High titer), and determination of virus titer by Quantitative-PCR
Verify the protein expression for P1 and P2 generation by western blot with anti-His/GST or other antibody

5 ml, >107 pfu/ml virus stock

2–3 weeks

3. Pilot expression and purification evaluation

Infection of insect cells with P2 stock
One step affinity purification
SDS-PAGE gel and Western blot

Expression data

1.5 weeks

4. 1 L expression and purification

1 L insect cell expression and purification
One-step purification
QC by SDS-PAGE, Western blot2, and LC-MS/MS coverage3

Purified proteins
QC data

1–2 weeks
1Listed is the typical turnaround time at GenScript. Please note that additional requirements may incur additional steps, and likewise longer processing time.
2FREE Western QC data is available for tagged proteins that can be detected by the anti-His or anti-GST antibody. For other tagged proteins, additional charges may apply.
3Other QC data, such as LC-MS/MS coverage, N-terminal sequencing and LC-MASS are available with additional charge.
Customer Testimonial
"GenScript provides fast, professional protein synthesis services at very reasonable prices. By making it cost-effective to outsource protein production, GenScript has made it possible for my lab to focus on our own area of expertise and get more research done. The detailed planning, updates, and reports that GenScript provides all of the quality control that one could ask for. I strongly recommend GenScript's protein production service."
— Dr. Barry Bradford, Kansas State University Department of Animal Sciences & Industry
Selected publications using our protein services
More publications
Quotation and Ordering
To request a quotation, please fill in the Quotation Form and send it to us by email or fax. Download the Quotation Form in following list:

For customized protein service, please download the
For Baculovirus Preparation Service, please download the
Our customer service representatives are available 24 hours a day, Monday through Friday, to assist you.
 

 

Phone: 1-877-436-7274 (Toll-Free); 1-732-885-9188

 

Fax: 1-732-210-0262