Antibody sequencing promotion
The antibody sequence information is essential for monoclonal antibodies (mAbs) engineering, function optimization, database banking, and patent application. Our rapid and 100% accurate antibody sequencing service is your reliable choice to speed up and facilitate therapeutic antibody leads discovery and development. services at GenScript.
Terms and conditions:
Promotion is valid for domestic (US) and international customers, excluding China.
Promotion applies only to catalog numbers SC1408 and SC1919.
Promotion is only valid for the first order (< 5 samples) of each new customer.
Promotion is applied by our technical account managers during quotation and may not be applied to orders after they have been confirmed.
Cannot be combined with any other promotion or special pricing agreements.
Valid until December 31, 2018.
Contact us at antibody_drug@genscript.com if you have any questions about this promotion.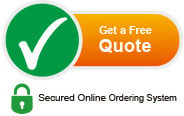 Quotation and Ordering
Please contact us mentioning "Discovery Biology", our customer service representatives are available 24 hours a day, Monday through Friday to assist you with Quotation Form preparation.