The outbreak of coronavirus disease 2019 (COVID19) has posed a global threat to public health. A novel coronavirus, SARS-coronavirus 2 (SARS-CoV-2), has been identified as the etiologic agent of this disease. Cell entry of coronavirus depends on the spike (S) protein binding to a cellular receptor and priming by a cellular protease.
Isolation of the proteins, antibodies, and cells specifically responding to SARS-CoV-2 Spike protein or Spike RBD is critical to investigate the immune responses in patients as well as to evaluate the effectiveness of emerging vaccines and therapeutics.
At GenScript, we have developed magnetic beads for SARS-CoV-2 specific bioseparation. GenScript's cutting-edge magnetic bioseparation technology can help to advance your investigation of COVID19-specific immune response. These beads are compatible with GenScript AmMag Magnetic Racks or other similar magnets.

Product Features:
SARS-CoV-2 Spike or S1 RBD specific
Paramagnetic
Non-toxic
Easy-to-use
Applications:
Cell Isolation

Antibody Capturing

Binding Assays

Biopanning
Procedure of SARS-CoV-2 Specific Bioseparation

Example Data
Immunocapturing of anti-SARS-CoV-2-S1 antibody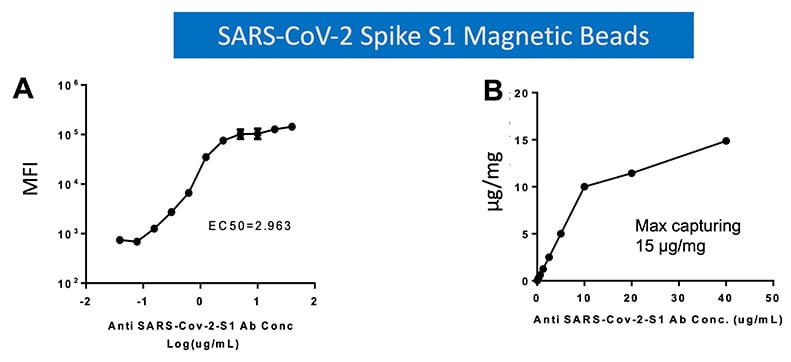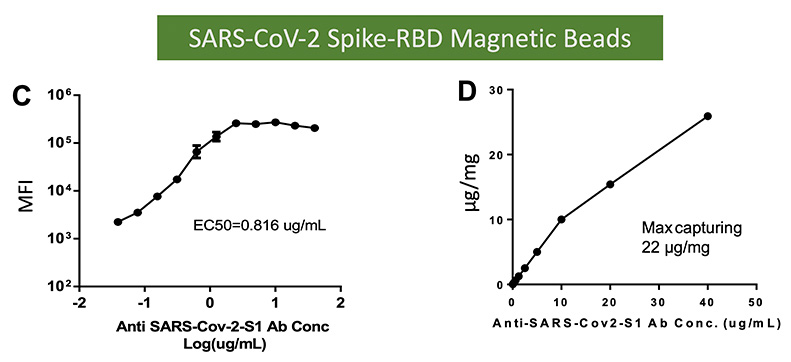 Figure 1. 100µg SARS-CoV-2 Spike Magnetic Beads (A-B) or SARS-CoV-2-S1-RBD Magnetic Beads (C-D) (1mg/ml) were incubated with anti-SARS-Cov-2-S1 antibody at various concentrations for 1 hour. EC50 (A, C) or maximum (B, D) capturing amount was analyzed respectively by FACS or Braford assay.
Product List Coming soon!
| Binding Specificity | Product | Data Sheet |
| --- | --- | --- |
| SARS-CoV-2 Spike | SARS-CoV-2 Spike Magnetic Beads | Manual |
| SARS-CoV-2 Spike RBD | SARS-CoV-2 Spike RBD Magnetic Beads | Manual |
Related Products: