The Origins of Plasmids
Plasmids were first observed in the 1940s during examinations of bacterial cells, where scientists came across small, circular segments of DNA. The term "plasmid" is derived from the Greek word "plasma," which means "something molded or formed." Initially dismissed as cellular debris, these minuscule genetic components soon unveiled their remarkable potential. In a noteworthy paper titled "Sex Compatibility in Escherichia coli," Joshua Lederberg and Esther Lederberg detailed their discovery of these tiny, autonomously replicating genetic entities within bacteria [1]. Over the decades, plasmids became pivotal tools in molecular biology, serving as carriers of genetic information and catalysts for groundbreaking research in genetics, biotechnology, and medicine.
What is a Plasmid?
Plasmids, at their core, are self-replicating, extrachromosomal DNA entities. These genetic artifacts are separate from the host bacterium's chromosomal DNA, operating like autonomous vehicles carrying genetic cargo. They're not an integral part of the bacterium's genome, yet they harbor genes that bestow selective advantages, like antibiotic resistance or metabolic capabilities.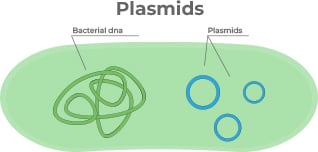 Key Essential Elements in Plasmids
Plasmids, those small genetic vessels, consist of several essential elements that underpin their functionality and utility in molecular biology.
| Element | Description |
| --- | --- |
| Origin of Replication | The origin of replication is a pivotal element in plasmids. It initiates replication, enabling independent replication within the host bacterium, while also influencing the plasmid's host range and copy number. |
| Selectable Markers | Genetic trait, often antibiotic resistance, that allows researchers to identify and cultivate bacteria carrying specific plasmids or genetic modifications. |
| Promoter | Regulatory DNA sequences that determine when and how strongly the genes on the plasmid are expressed |
| Multiple Cloning Site (MCS) | Region with multiple restriction enzyme recognition sites allowing researchers to insert their gene of interest, usually artificially designed |
| Insert | Gene or DNA fragment cloned into the MCS region |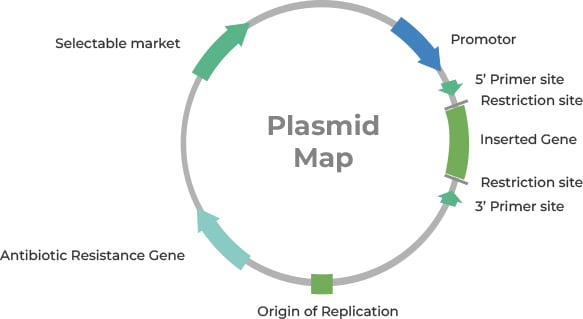 Why Plasmids are the Treasure of Researchers
Researchers adore plasmids for several reasons. Firstly, they serve as indispensable tools in genetic engineering. By introducing desired genes into plasmids, recombinant DNA molecules can be created, offering the ability to express these genes ectopically in bacterial hosts. This technique has revolutionized biotechnology, allowing the production of insulin, growth hormones, and more.
Secondly, plasmids are carriers of genetic information. They shuttle genes between organisms, potentially transferring beneficial traits. In nature, this horizontal gene transfer aids bacterial adaptation, but in the lab, it facilitates gene cloning, DNA sequencing, and gene therapy, further advancing scientific research and related applications.
Constructing Plasmids in the Lab
Plasmid construction in the laboratory is a feat of molecular engineering. Scientists meticulously select a plasmid with specific attributes, like a high copy number or resistance to antibiotics. They then proceed to insert a gene of interest into this carefully chosen genetic vessel.
scissors cut both the plasmid and the target DNA at precise sites, creating compatible ends that are ready to fuse together. DNA ligase, often referred to as molecular glue, is then employed to join these DNA fragments together, culminating in the birth of a recombinant plasmid.
To complete the transformation, bacterial cells act as the host, welcoming the foreign plasmids into their genetic repertoire. These plasmids, now nestled within the bacterial cells, become integral players in scientific experiments. Researcher's culture these transformed bacterial colonies, allowing them to multiply and express the inserted gene, turning molecular dreams into tangible scientific results.
References
1. Lederberg J, Cavalli LL, Lederberg EM. Sex Compatibility in Escherichia Coli. Genetics. 1952 Nov;37(6):720-30. doi: 10.1093/genetics/37.6.720. PMID: 17247418; PMCID: PMC1209583.