Are you puzzled by the contamination in your NGS oligos?
Are you worried about the library construction efficiency in your NGS experiment?
Are you aware of the high quality standards of NGS oligos?
Next-Generation Sequencing (NGS) has been widely used in many clinical diagnostic areas, including genetic diseases and cancer, non invasive prenatal testing (NIPT) and precision medicine because of the high-throughput sequencing, high accuracy and abundance of information gathered. Accordingly, the high quality standards of NGS oligos extend beyond purity and accuracy which are usually applied to standard oligos. Additionally, other standards which will affect NGS results also need to be considered, such as cross-contamination and precise quantification.
GenScript provides NGS adapters for both ligation and tagmentation library preparation, compatible with Illumina Truseq and Nextera. We offer on-shelf unique-dual index (UDI) adapter pairs, and custom adapters to fit your sequencing platform. Our stringent QC guarantees a much lower cross-contamination rate than the industry standard.
Extremely low-cross contamination to avoid sample mis-assignment
High-purity, low error rate ensures batch to batch consistency of your NGS based assay results
On shelf or custom adaptors for various sequencing platform and convenience
Types
Length
Purification method
Deliverables
Single index
Dual index
Unique Molecular Index (UMI)
15-150 nt
PAGE+
HPLC+

Tubes or plates
Lyophilized
COA document
Compatible with GenTrack or other mechanical fragmentation DNA library prep, 96 dual-indexed adapters
GenTrack Adapter Set contains 12 Index 1(i7) and 8 Index 2(i5), making 96 sample multiplexed sequencing.
Compatible library preparation kits: GenTrack, GenTrack V2.0, Illumina TruSeq, Roche Kapa.
Order:
Related products
Compatible with GenNature or tagmentation DNA library prep. 4x96 sets. Total 384 dual-indexed adapters
GenNature Adaper Set is available in set a, b, c, and d. Each set contains 12 Index 1(i7) and 8 Index 2 (i5) packed in tubes. You can mix one tube of index 1 and one tube of index 2 per samples. All 4 sets of makes a total of 384 adapter paris.
Compatible library preparation kits: GenNature, GenNature V2.0, Illumina Nextera.
Order:
Related products
Fit your sequence platform. Bioinformatics design assistance. Customer large adaptor sets for HT multiplexing. Fully customizable to release your stress when implementing automation.
Type of custom adapters
Customized format
Assisted design for Illumina platform

Single index
Dual index
Index with UMI
Other platforms

Pre-plated with plate map
Customized pooling and normalization

96x96 adaptor sets or even larger
De-multiplexing assistance
Design considering GC and color balance, distance, and match your sequencer
For quote, please download the NGS oligos template and send the form to the email address: [email protected]. Our technical account managers will contact you in 24 hours.
GenScript adaptors Performance and specifications:
Extremely low cross-contamination rate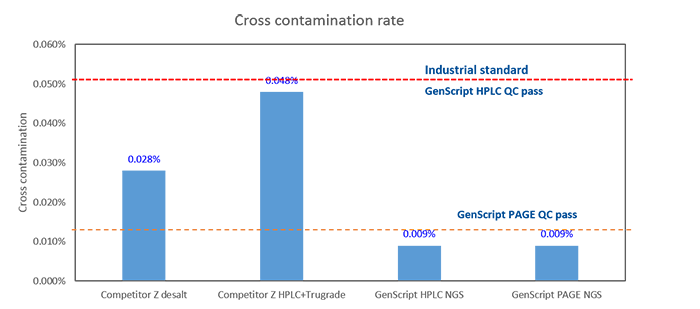 Figure 1: Quarterly cross contamination rate of adapters with NGS test
Extremely low error rate

Figure 2: The actual molecular weight (MW) of the adapter is 20003.8 Da, which is consistent with theoretical MW.

Guaranteed high purity

Figure 3: The target peak purity is 99.36% from CGE report