Oligonucleotide Purification
Oligonucleotides produced by GenScript with state-of-the-art oligo-synthesizer have substantial purity with low truncated sequences. There is no further purification for applications involving in Polymerase Chain Reaction(PCR), DNA sequencing and gene synthesis. However oligonucleotides are always contaminated with products of incomplete synthesis and deprotection product, improperly synthesized oligonucleotides, and protecting groups cleaved from the bases after synthesis. The decision as to whether or not purification is required depends on an evaluation of the probable degree of contamination of the desired full-length product (n-mer) with these undesired side products and the possible effects of these contaminants on the intended experiment.
In general, purification steps perform three significant functions:
Separation of full-length n-mers from incomplete products (n-1 mer, n-2 mer, et al).
Removal of oligonucleotides resulting from incomplete deprotection, depurination, dimerization, branching, et al.
Removal of cleaved blocking groups from bases.
Purification Options:
Oligonucleotides purification can be accomplished by various methods, The purification method selected depends on the size of the oligonucleotide, the degree of purity required with the application. The common techniques available and used frequently are polyacrylamide gel purification (PAGE), ion exchange (IE) or reverse phase (RP) HPLC, and reverse phase cartridges such as the RPC. The table below summarizes the purification range of each of the above techniques.
Length
RPC
PAGE
HPLC
Ion Exchange
Reverse phase

<15 mer

No

No

Yes

Yes

15-40 mer

Yes

Yes

Yes

Yes

41-60 mer

Yes

Yes

Yes

No

60~120 mer

No

Yes

No

No
Reverse phase cartridge(RPC):
This is an inexpensive alternate to HPLC reverse phase purification. The cartridge for reverse phase purification usually contains a hydrophobic matrix e.g. C18 silica, the principle of purification being the same as HPLC, this method the cleaved hydrophobic protecting groups and removed small fragment of oligonucleotide which easily washed out by water from reverse phase cartridge.
Polyacrylamide Gel Electrophoresis (PAGE):
PAGE separates oligonucleotides on the basis of mass/charge ratios by passing an electrical charge across a gel matrix. The negatively charged oligonucleotides are drawn through the matrix. A common method of detection is UV back shadowing, where a UV lamp is shined on the gel which is on a fluorescent background. The oligonucleotides absorb the UV light, leaving a shadow on the background. Denaturing PAGE (the gel has a high urea content to force any double strands to separate into single strands during the analysis) can be used for greater than 15 mer length of oligonucleotide.
High Performance Liquid Chromatography (HPLC):
HPLC is a good alternative purification strategy. The two most commonly used in oligonucleotide chemistry are reverse phase (RP), which separates on the basis of mass/lipophilicity ratio, and anion exchange (AX), which separates on the basis of anionic mass/charge ratio. IE-HPLC is considerably more efficient than RP-HPLC for resolution of full-length and n-1 mer oligonucleotides up to 60 residues in length. Moreover, both of these HPLC strategies efficiently remove both the cleaved hydrophobic protecting groups and modified or incompletely deprotected oligonucleotides from the final product. Both RP- and IE-HPLC are relatively high capacity, low cost purification strategies for small to mid size oligonucleotides.
Pricing and Guaranteed Yield:
Pricing for DNA Oligo Purification

Purification

50 nmol

100 nmol

200 nmol

1 µmol

5 µmol

10 µmol

Desalt

free

free

free

free

free

free

RPC

$20.00

$22.00

$24.00

$36.00

$62.00

$110.00

Page

$35.00

$40.00

$60.00

$105.00

$525.00

$915.00

HPLC

$38.00

$38.00

$58.00

$94.00

$215.00

$315.00

*For Dual HPLC, Dual PAGE & HPLC, combinations and other special request, please inquire.
Guaranteed Purification Yield for unmodified DNA Oligo

Purification

50 nmol

100 nmol

200 nmol

1 µmol

5 µmol

10 µmol

Desalt

3 OD

6 OD

10 OD

45 OD

200 OD

400 OD

RPC

2 OD

5 OD

8 OD

45 OD

200 OD

400 OD

Page

1 OD

2 OD

3 OD

10 OD

45 OD

100 OD

HPLC

1 OD

2 OD

4 OD

20 OD

100 OD

200 OD

*Yield Guarantee only for 15-60 bases in length.
*Modifications can affect yield.
Quotations and Ordering: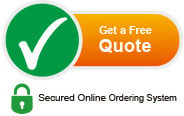 Our customer service representatives are available 24 hours Monday through Friday. You may contact us anytime for assistance.