The quest to characterize novel proteins can be elusive. For many researchers working in specialized model organisms such as insects, fish, worms, parasites, and plants, purchasing pre-made antibodies just simply isn't an option.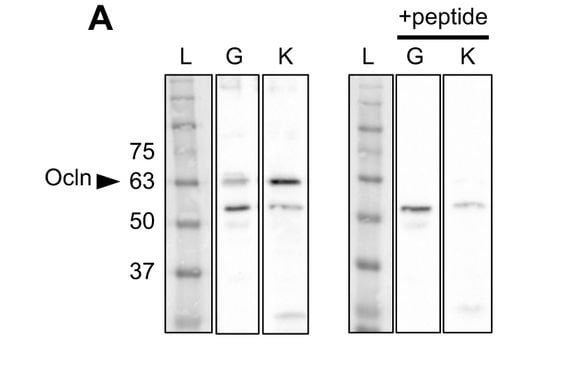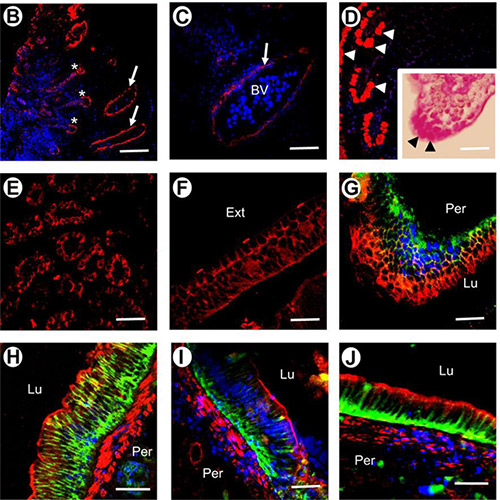 Scale bars: (B) 50 μm, (C–J) 25 μm. BV, blood vessel; Ext, exterior; Lu, lumen; Per, peritoneal side.
Custom polyclonal antibodies allow you to specify, validate, and visualize specific protein targets
In a research study conducted by Kolosov et al., generating three custom polyclonal antibodies (pAbs) presented an ideal solution to the problem of detecting and characterizing novel proteins. Since pAbs recognize multiple epitopes of the same target protein, developing his own custom antibodies using GenScript's popular pAb service maximized success of detecting the proteins of interest.
Uncovering how sea lamprey adapt to survive in habitats of varying salinity levels
Sea lamprey (Petromyzon marinus) is a parasitic fish that is able to survive in waters that vary widely in salinity levels. Post-metamorphosis, mature P. marinus reside primarily in seawater before returning to freshwater habitats to reproduce. As larvae, however, P. marinus can only tolerate living in freshwater within a strictly limited salinity range. As a result, this adaptation for surviving in aquatic habitats of varying ionic strength depends greatly on the stage of this organism's life cycle.
To understand the molecular physiology behind P. marinus' unique osmo/ionoregulation ability that enabled these fish to maintain stable serum ion levels while residing in habitats of varying ionic strength. Their research focused on the tight junction (TJ) proteins in larval sea lamprey that are responsible for paracellular solute movement across tissue-water barriers.
The researchers identified three novel TJ-associated proteins, Occludin (Ocln), its isoform Ocln-a, and tricellulin using genomic information. They then used GenScript's services to generate three different custom pAbs towards each of these proteins in order to better elucidate their individual roles in osmoregulation within P. marinus.
The researchers went on to ensure that the pAbs generated could specifically their TJ-associated proteins. For example, the custom anti-Ocln pAb detected Ocln expression in larval lamprey tissues via Western blot (Panel A). Ocln expression was observed in the gill, (G) and kidney (K), and pAb specificity was confirmed when use of an antibody-blocking peptide prevented Ocln detection (+peptide). Ocln expression was resolved at ~63 kDa. Using similar methods, specific expression of the Ocln-a isoform and tricellulin was detected using their respective pAbs (data available here).
After ensuring the specificity of their pAb, Kolosov et al. determined the localization of these TJ-associated proteins in a wide variety of larval lamprey tissues using immunohistochemistry (Panels B – J).
Stunning immunofluorescence images of larval lamprey tissue using the anti-Ocln pAb demonstrated clear immunoreactivity towards Ocln (red) across various tissue sections. The transmembrane Na+/K+-ATPase is highlighted in green, and DAPI staining of nuclei is in blue.
Ocln localization was observed within primary (arrows) and secondary gill filaments (asterisks), as well as mucous cells (arrow heads) of the primary gill filament (Panels B, C, D respectively). Expression was also detected in the tubular epithelial cells of the kidney (Panel E), epithelial cells of the integumentary system (Panel F), the subapical region of columnar epithelial cells (Panel G), as well as the anterior, middle, and posterior cross sections of the GI tract (Panels H, I, J respectively).
The research team proceeded to successfully characterize the localization of Ocln-a and Tric in a similar manner. Taken together with quantification data of serum ion levels, carcass moisture abundance and TJ-associated mRNA transcript abundance following larval sea lamprey acclimation to ion poor water for all three proteins, this work provided new insight into the unique osmoregulation abilities of basal vertebrates.
Access full research article here.
Figure reproduced with permission from the Journal of Experimental Biology (doi:10.1242/jeb.161562), with additional consent from the study's author Dennis Kolosov, Ph.D. (www.denniskolosov.com).
Why custom polyclonal antibodies?
Using pAbs maximizes your chances of specific protein detection across classic model organisms (Drosophila, Xenopus, C. elegans, zebrafish, Arabidopsis, etc.) as well as in rare animal and plant species! In addition, pAb production is fast, straightforward, and affordable, ensuring the best bang for your buck! Learn more »
See where else our custom pAbs have been used by exploring some of our selected publications! Explore additional model organisms such as parasites as well as other animal and plant species using our citations database.