High Resolution & Robust Separation
Large well volume – Up to 80 µl of sample volume
High resolution – Even, sharp bands, guaranteed lot-lot consistency
Long shelf life – Up to 18 months at 2-8℃; Gels are also stable for 6 months at room temperature within 1 year after manufacturing date
Cost effective – Free running buffer; 30-50% price reduction compared to other major competitors
Compatible cassette design – Compatible with Bio-Rad mini gel tank
GenScript's Bis-Tris precast gel series are high performance polyacrylamide gels that are designed to separate a wide range of protein sizes by electrophoresis. The gels are cast in a neutral pH buffer that minimizes polyacrylamide hydrolysis and increases gel stability. They also run at neutral pH which minimizes protein modification compared to Tris-glycine gels.
GenScript's gel series include:
SurePAGE™ Gels: premium, high resolution and reproducibility gels
ExpressPlus™ Gels: good quality and very cost-effective gels
ExpressPlus™ (Bis-Tris)

SurePAGE™ (Bis-Tris)

Competitor B (Tris-Glycine)

Homemade (Tris-Glycine)

Competitor T (Bis-Tris)
"Our area of interest is in Developmental Biology and we are interested in proteins that are involved in transcriptional regulation, autophagy, mitophagy, apoptosis. GenScript's SurePAGE™ precast gels provides an economical and quality option for our research needs and saves us at least an hour during gel electrophoresis."
―Pragnya Das, Drexel University
SurePAGE™ Bis-Tris Gels (10x8)
Free samples of SurePAGE™ (Including MOPS buffer powder) available. Contact us freesample@genscript.com.
SurePAGE™, Bis-Tris gels are a major upgrade from ExpressPlus™ gels with enhanced casting technology that results in better resolution and consistency.
Superior resolution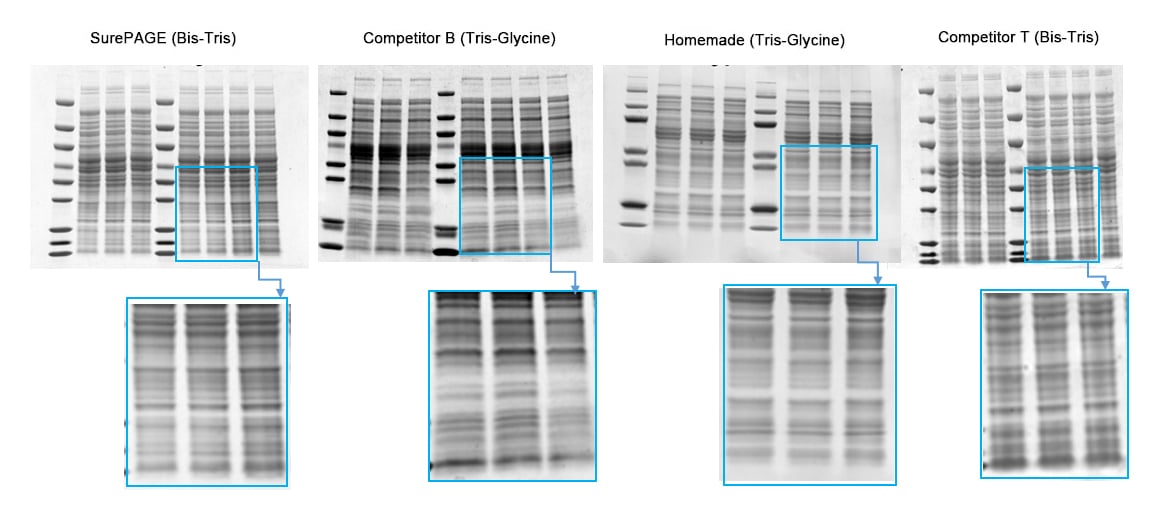 Figure 2: SurePAGE™ gels offer superior band resolution compared to competitors and the homemade Tris-Glycine gels. Lane 1 and 5: protein marker (MM1397), 5 µl. Lane 2,,3,4,6,7,8 and 9: E. coli 10ul cell lysate.
Cost effective

Easier loading, Larger well volumes
GenScript Precast Gel Selection Guide