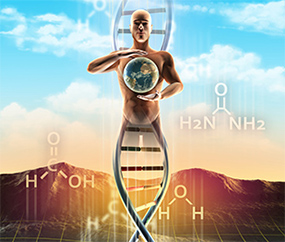 GenScript synthesizes high quality custom peptides, including neuropeptides, with industry leading speed to help accelerate your research.
Understanding the origins-of-life using prebiotic chemistry
How did life evolve from individual molecules? Scientists have been trying to find answers to this question for centuries. Researchers from Georgia Institute of Technology presented a workflow that closely mimic the conditions at the beginning of life to study how secondary functional structures, such as peptides, arise from a mixture of simple molecules.
Chemical evolution theories suggest that amino acid condensation plays a crucial role in the evolvement of peptide and ancient peptides are build with both amino acids and α-hydroxyl acids. By exposing a mixture of three α-amino and one α-hydroxy acids to repeated hot-dry/cool-wet cycles over 4 days, hundreds of proto-peptide sequences were detected using mass-spectrometry (MS)-based techniques. Importantly, this study indicated that each cycle increased the complexity of peptides significantly and the incorporation of each amino or α-hydoxy acids into peptides were not random. The diversity of peptides resulted from just four amino or α-hydoxy acids suggested the unlimited potential of using this workflow with more amino acids to uncover the origin of life.
---
Jay G. Forsythe et al. Surveying the sequence diversity of model prebiotic peptides by mass spectrometry. PNAS (2017). DOI: 10.1073/pnas.1711631114
Discounts and Promotions
Peptide Library Services

GenScript also synthesizes high quality peptide libraries for drug discovery, vaccine design, epitope mapping, and proteomics research.
Key Service Features: Learn More
HPLC and MS analyses for each peptide
From microgram to milligram quantities
From Crude to 98% purity