Peptide Purification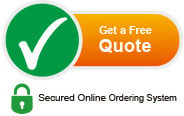 GenScript purifies and analyzes its synthetic peptides using reverse-phase and ion exchange HPLC. Ion exchange HPLC is employed when reverse-phase HPLC is inapplicable, such as in the purification of very long peptides or large quantities of peptide.
Peptide Purity and Applications:
Peptide purity is the amount of correct peptide relative to the total analytes that absorb at 214 nm (which may include deleted, truncated, or incompletely deprotected sequences, etc.).
GenScript peptide service offers a selection of purity levels ranging from crude peptide up to more than 98% pure. The following guidelines may help you to find the best purity level for your application.
Immunological applications and polyclonal antibody production
> 90%: SAR studies, bioassays
> 95%: NMR, crystallization, in vitro bioassays
> 98%: NMR, crystallization, sensitive bioassays
Delivery Specifications:
All peptide synthesis is subject to GenScript's stringent quality control. The typical delivery consists of lyophilized peptide of the required sequence, purity, and quantity and associated QC reports.
Quotations and Ordering:

For quotations, please use our Secure Instant Online Quotation/Order system. However, you may also contact us by email, phone (1-732-885-9188), fax (1-732-210-0262), or via our Secure Messaging System.
Secure Instant Online Quotation

Please use our online ordering system and either a PO (Purchase Order) or credit card to receive GenScript's fastest service. For batch order, please download and complete Standard Peptide Batch Order Form and email it to peptide@genscript.com. Our customer service representatives are available 24 hours, Monday through Friday to assist you.

We accept POs and major credit cards (

). A 7% New Jersey sales tax will be applied to orders shipped to New Jersey. Your credit card will be billed under "GenScript USA Inc." Click here to download our credit reference form. For international orders, we must apply the full charge at the time the order is placed. In the unlikely event that any given order cannot be filled, our guarantee will take the form of a full refund.