Peptoid Synthesis Service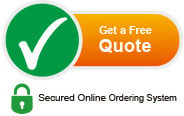 Peptide drugs are a rapidly growing class of therapeutics. However, the peptide drug discovery has been hampered by its inherent characteristics: low stability due to susceptibility to enzymatic digestion, low target specificity because of high conformational flexibility, low hydrophobicity and the lack of specific transportation systems. In order to overcome these disadvantages of peptide, GenScript has developed an innovative Peptoid Synthesis (SC1559) service to meet the increasing needs in drug target discovery and lead structure discovery research.
Peptoids, or poly-N-substituted glycines, are a class of peptidomimetics whose side chains are appended to the nitrogen atom of the peptide backbone rather than to the α-carbons (as they are in amino acids). In native peptides, R group represents 20 different substitutions for specific amino acids, while in peptoids, the selection of R groups can be much wider and potentially unlimited.

Fig.1 Structural comparison between peptide and peptoid
Key Features (Peptoid VS. Peptide)
More stable: Peptoids are less susceptible to degradation in vivo than peptides.
More choices: Peptoids are well suited for combinatorial approaches to drug discovery because large libraries can be synthesized easily from readily available primary amines.
More cost-effective and time-efficient: Major advances in screening methodology have allowed peptoid libraries of hundreds of thousands of compounds to be mined inexpensively and quickly for highly specific protein-binding.
Higher market potential: The features of peptoids make them a class of pharmacological agents with great potential.
Service Specifications
Peptoid Synthesis
(Cat. No.: SC1559)
20 different residues available, more in development
Peptoid length up to 20 residues
Peptoid purity from crude to ≥98%
Peptoid quantity up to 500 mg
Available modifications: Acetylation, Amidation, Biotin, FAM, FITC, TMR labeling
MS, HPLC, and COA provided for each peptoid
2-6 weeks turnaround time, depending on the length and quantity of ordered peptoid
Current Available Peptoid Side Chain
| Side Chain Name | Abbreviation | Structural Formula |
| --- | --- | --- |
| Methylamine | NAla | |
| Ethylamine | NAbu | |
| n-propylamine | Nnpa | |
| Isopropylamine | NVal | |
| n-butylamine | Nnba | |
| Sec-butylamine | NIle | |
| Isobutylamine | NLeu | |
| Benzylamine | NPhe | |
| β-phenylethylamine | Npea | |
| α-methylbenzylamine | Nmba | |
| 2-(methylthio)ethylamine | NMet | |
| 3-Methoxypropylamine | Nmpa | |
| N-Boc-1,4-Diaminobutane | NLys | |
| 4-methoxyphenethylamine | Nmpe | |
| 3,4-Dimethoxybenzylamine | Ndmb | |
| (S)-(+)-Tetrahydrofurfurylamine | Nffa | |
| Piperonylamine | Npip | |
| 4-(2-Aminoethyl)benzenesulfonamide | Nbsa | |
| Tert-butylamine | Ntbu | |
| diisopropylamine | Ndip | |
Delivery Specifications
The typical delivery package consists of lyophilized peptoids of required sequence, purity, quantity and associated QC reports. Every step of peptoid synthesis is subject to GenScript's stringent quality control.
Peptoid Synthesis Method
The synthesis of a peptoid can be achieved through two methods: monomer and submonomer.
Monomer method: This method is very similar to solid phase synthesis of peptide with the exception that all the protected monomers for peptoid synthesis need to be synthesized first, where the synthesis of every Nα-protected monomer is tedious and time-consuming.
Fig.2 Synthesis of peptoid monomers
Submonomer method: This method eliminates the need of Nα-protected monomers. Each residue is installed in two steps: acylation followed by nucleophilic displacement. The submonomer approach allows the use of any commercially available or synthetically accessible amine that has great potential for combinatorial chemistry. In the acylation step a haloacetic acid, typically bromoacetic acid, is activated by diisopropylcarbodiimide reacting with the amine of the previous residue. In the displacement step (a classical SN2 reaction), an amine displaces the bromide to form an N-substituted glycine residue. This approach has greater advantages over the monomer approach and has been widely applied to peptoid library construction. We currently apply the Submonomer method for peptoid synthesis.

Fig.3 Schematics of peptoid synthesis by submonomer method
Case Study
With proven technical capability and state-of-the-art in-house instruments and technologies, we have successfully synthesized many peptoids.
Sequence: Npip-NVal-Npa-NIle-NLeu-Nnba-Nmba-Ndmb-Nmpe-NIle-Npea-Ndmb-NPhe-NVal-NAla-Nea-NLeu-NAla-NPhe-Nnba-Npa

Structure: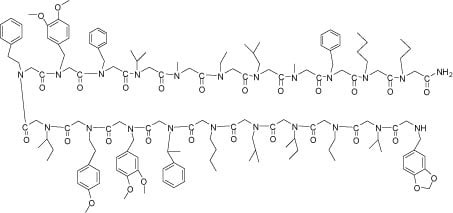 Length:
21 residues
Purity:
98.3%
Theoretical MW:
2733.37
Observed MW:
2732.8
MS result checked by ESI: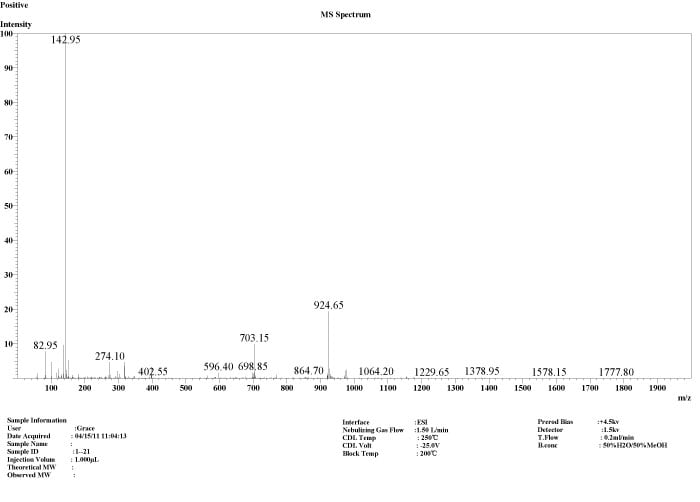 HPLC result checkedy by RP-HPLC, C18 column
: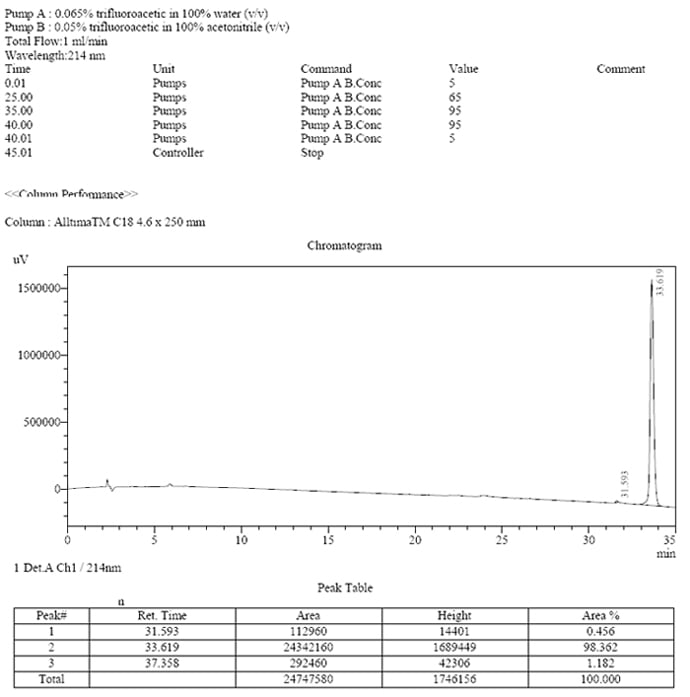 Quotations and Ordering
To request a quotation or order, please download and complete the Order Form and send it to us by email or fax. You can also submit PO/credit card information by phone or via our Secure Web Server.
We accept POs and major credit cards (). A 7% New Jersey sales tax will be applied to orders shipped to New Jersey. Your credit card will be billed under "GenScript" Click here to download our credit reference form. For international orders, we must apply the full charge at the time the order is placed. In the unlikely event that any given order cannot be filled, our guarantee will take the form of a full refund.