Precise Synthetic Oligo Pools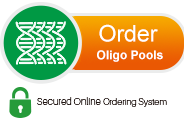 Our proprietary semiconductor-based electrochemical oligo synthesis platform developed by CustomArray, Inc. allows the precise design and synthesis of thousands of user-defined sequences simultaneously on a coverslip-sized chip, providing you with an affordable, customized oligo pool. Electronic control of the synthesis process produces high fidelity oligos with top-notch sequence accuracy, ensuring all of the sequences you design are represented.
Our extensive selection of additional services can also complement your customized oligo pool, offering a one-stop solution for all your screening and engineering needs. With industry-leading turnaround time and affordable pricing starting at less than $0.02/base, GenScript's oligo pool service is the economical choice for high quality oligos that you can rely on to turn your scientific ideas into reality.
Key Features of GenScript's Oligo Pool Service
Flexibility for Your Application

Two chip sizes allows for construction of any size pool
No sequence restrictions or minimum order required

High Screening Efficiency

Top-notch sequence accuracy ensures target specificity
>99% coverage rate ensures maximum targeting

Low Batch Variations

High consistency between oligo pools
More confidence in your results when using multiple oligo pool batches
Video
Check out our interview from the TIDES: Oligonucleotide & Peptide Therapeutics 2019 conference featuring our senior scientist, Marcelo Caraballo! Learn more about our chip-based oligo pool synthesis technology and developing innovative solutions for the precision diagnostic and therapeutic research fields.
Applications for GenScript's Oligo Pool Service
Oligo pools have a wide array of uses in various research applications. Click below to learn more about how GenScript's oligo pool and related services can meet your application needs.
Oligo Pool Ordering Process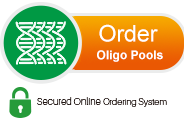 New Easily order your oligo pool online! Please download our quotation form and upload it with your order. Click here to place your order.
Our technical account managers will contact you within 24 hours
Orders can be placed by phone, email, fax, or online with a formal PO (purchase order) or credit card
Our customer service representatives are available 24 hours Monday through Friday.