Protein A, G and A/G MagBeads
Ordering Information
GenScript Protein A, G and A/G MagBeads are developed for quick, convenient and reproducible immunoprecipitation(IP) and small scale purification of immunoglobulin. By covalently pre-coupling recombinant Protein A, G and A/G to the surface of superparamagnetic beads, these MagBeads provide users simple, easy and time-saving procedures for immunomagnetic separation.
Learn more about Immunoprecipitation (IP) and Co-IP »
Due to the elimination of non-IgG binding domains and other unknown function fragments, the recombinant Protein A, G and A/G both display high affinity for subclasses of IgG from many species including human, rabbit and mouse etc. This permits the purification of IgGs from cell culture supernatants, serum and ascites or other starting samples. In addition, Protein A, G and A/G MagBeads can also be used to immunoprecipitate target proteins from crude samples using a selected primary antibody. To prevent co-elution of the antibody, it is necessary to chemically cross-link the antibody to protein A, G and A/G coated beads prior to the immunoprecipitation steps. Read more »
By applying magnetic separation technology, the Protein A, G and A/G MagBeads supply researchers with fast, easy and efficient IP/isolation procedures. A magnetic separation rack is also needed to use the MagBeads. All steps take place in a single tube, without the need for columns, centrifugation, or pre-treatment. Extremely gentle magnetic handling prevents loss of your target IgGs or protein and keeps them intact throughout the procedure. Protein A, G, and G/G MagBeads are the perfect tools for immunoprecipitation and small-scale IgG purification.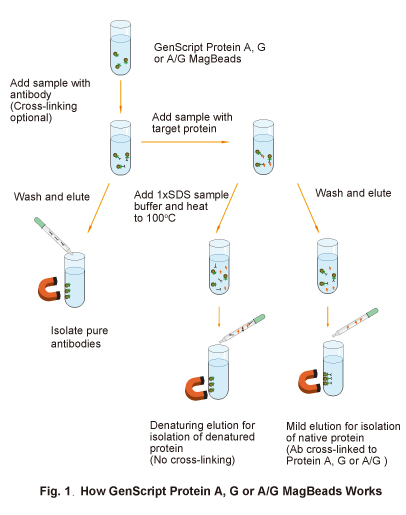 Table 1. Properties of the recombinant Protein A, G and L on Resins
 
Protein A
Protein A
MagBeads MX
Protein G
Protein G
MagBeads MX
Protein A/G
Source
Staphylococcus aureus
Staphylococcus aureus
Streptococcus
Streptococcus
 
Molecular weight
34 kDa
34 kDa
≈22 kDa
≈22 kDa
43 kDa
Numbers of IgG(Ig) binding sites
5
5
3
3
4 of Protein A and 2 of Protein G
IgG Binding capacity
10 mg rabbit IgG per ml settled beads
≧ 30 mg human IgG per ml settled beads
10 mg goat IgG per ml settled beads
≧ 25 mg human IgG per ml settled beads
10 mg goat IgG per ml settled beads
Cat NO.
L00273
L006724
L00274
L006734
L00277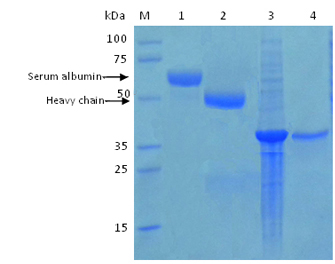 Lane M, Protein Molecular Weight Standard.
Lane 1, Flowthrough of rabbit serum.
Lane 2, Purified rabbit IgG from serum.
Lane 3, Bacterial lysate expressing His-tagged protein.
Lane 4, Immunoprecipitated His-tagged protein, 32 kDa (Anti-His antibody cross-linked to the MagBeads).
Fig.2. Purification of Rabbit IgG from Rabbit serum and Immunoprecipitation of His-Tagged protein from bacterial lysate using GenScript Protein A MagBeads.