Recombinant Peptide Services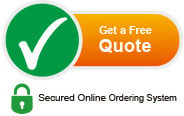 Most peptides can be synthesized by chemical means. However, long peptides (> 150 residues) or complicated peptides (multiple disulfide bonds) are prohibitively expensive to synthesize chemically. GenScript has developed a proprietary recombinant peptide (Cat.No. SC1082) system as a complement to its standard chemical peptide synthesis service. The powerful combination of these two technologies allows GenScript to provide its customers with any peptide, of any length, on any scale.
Key Features
Superior Precision: GenScript's recombinant peptide technology provides custom peptides exactly as requested. Our solid QC guarantees that each delivery matches the customer's precise specifications of sequence and purity.


Outstanding Procedure: Conventional chemical peptide synthesis has only limited abilities to synthesize long or complicated peptides, whereas our proprietary recombinant peptide technology can handle the toughest possible peptide sequences.


Scalable System: Orders can range from milligrams to kilograms.


Low Cost: Our recombinant peptide package provides a cost-effective approach for large-scale, long, and complicated peptide production. In addition, recombinant peptides may be regenerated, further decreasing long-run expenses.


Batch-to-Batch Consistency: With fewer steps than conventional peptide synthesis, recombinant peptide technology produces synthetic peptides with high levels of consistency, time after time.
Delivery Specifications
The typical delivery consists of peptides of the required sequence, purity, and quantity and associated QC reports.
How to Order Recombinant Peptides

For quotations, you may also contact us by email, phone (1-732-885-9188), fax (1-732-210-0262), or via our Secure Messaging System.

Orders can be placed with either a PO (Purchase Order) or credit card. Our customer service representatives are available 24 hours, Monday through Friday to assist you.

We accept POs and major credit cards (

). A 7% New Jersey sales tax will be applied to orders shipped to New Jersey. Your credit card will be billed under GenScript Click here to download our credit reference form. For international orders, we must apply the full charge at the time the order is placed. In the unlikely event that any given order cannot be filled, our guarantee will take the form of a full refund.