Secondary Antibodies product
A primary antibody's Fc domain is constant within the same animal species, therefore, a given secondary antibody can be used with any primary antibody of the same isotype and target species. This reduces the cost by labeling only one type of secondary antibody. In addition, secondary antibodies offer increased sensitivity through the signal amplification.
At GenScript, secondary antibodies are purified from the serum of several hosts, including goat, donkey, mouse, rabbit, chicken and sheep. Secondary antibodies are available with specificity for whole Ig molecules or antibody fragments such as the Fc or Fab regions. The conjugated secondary antibodies can be used for various immunology analysis and protein assays.
GenScript also offers over 1000 highly specific monoclonal and polyclonal primary antibodies. Click here to look for primary antibodies for your protein of interest.
MonoRab® Rabbit Anti-Camelid VHH Monoclonal Antibody Series
Camelids naturally produce antibodies composed only of heavy chains as compared to the conventional antibodies (Fig 1)The antigen-binding site of these unusual heavy chain antibodies is formed only by a single heavy chain variable domain, designated as single domain antibodies (sdAbs or VHHs). Because of their unique structure, small size and stability, VHHs have several advantages comparing to conventional antibodies or their fragments. Several VHHs are now being studied for use in the diagnostic fields and therapeutic areas, including oncology, infectious, inflammatory, and neurodegenerative diseases.
Rabbit anti-camelid VHH monoclonal antibody series generated by Genscript's proprietary rabbit-mouse hetero-hybridoma technology MonoRab™ provide perfect secondary antibody tools for researchers to identify target-specific sdAbs.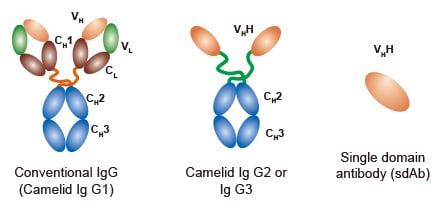 Key Features
MonoRab® technology guarantees high affinity: Kd ≈ 10-11 M
No cross reactivity with other species
Recognizes the variable domain of camelid (Llama and Camel) antibodies
Specific to camelid IgG2 & IgG3
Recognizes conformational epitope
Conventional polyclonal antibodies recognize many epitopes, leading to high background and cross reactivity in many assays. M205 is specific to native rabbit IgG and doesn't react with denatured or reduced rabbit IgG heavy or light chain. It's an ideal tool for Immunoprecipitation and Western blot. Primary antibody heavy and light chain contamination can be avoided.
Key Features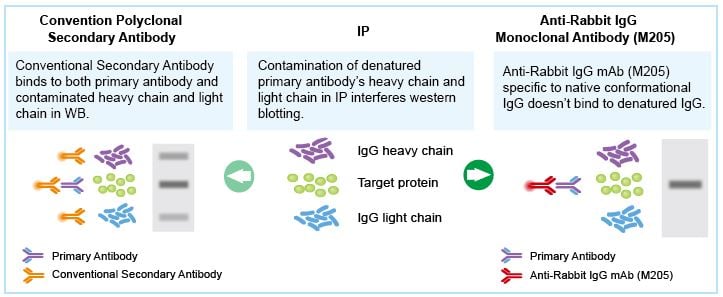 High sensitivity and low background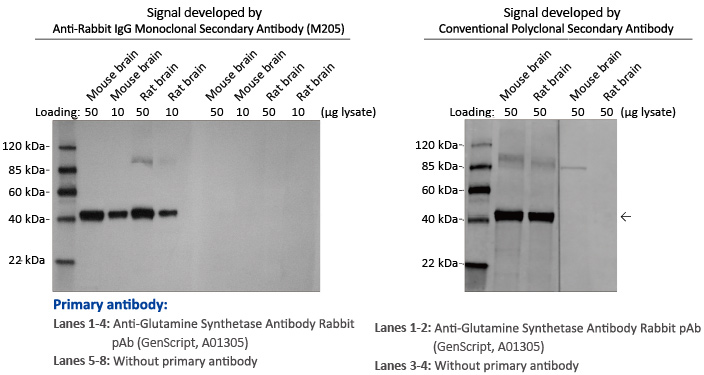 The result demonstrates that Anti-Rabbit IgG Monoclonal Secondary Antibody (M205) provides less background noise than conventional polyclonal secondary antibody with equivalent sensitivity.
Binding to conserved epitope
Detection of different titrated primary rabbit antibodies using Anti-Rabbit IgG Monoclonal Secondary Antibody (M205) (HRP conjugate) #A1827 indicates that M205 binds to a conserved rabbit IgG epitope, and can recognize primary antibodies generated from different rabbits.
Step 1. The target species of the secondary antibody need to match the host of the primary antibody.
Step 2. The immunogen of the secondary antibody need to match the class (isotype), subclass or the fragment of the primary antibody. Select an appropriate host species for the secondary antibody.
Example:
Immunoglobulin (Ig) Types of Mammals
Ig Class (Isotype)
Subclass
Heavy Chain
Light Chain
Complexes
Ig A
Ig A1, Ig A2
α1, α2
κ or λ
dimer
Ig D
δ
monomer
Ig E
ε
monomer
Ig G
Ig G1, Ig G2a, Ig G2b, Ig G3, Ig G4
γ1, γ2, γ3, γ4
monomer
Ig M
μ
pentamer
Step 3. Choose the label of the secondary antibody according to your application.
Application
Label Type
Label Options
ELISA
Enzyme
Biotin,
Alkaline Phosphatase (AP),
Horseradish Peroxidase (HRP)
Western Blot (WB)
Flow Cytometry
Fluorochrome
R-Phycoerythrin(RPE),
Fluorescein (FITC),
Texas Red ® ,
Rhodamine (TRITC)
Immunofluorescence (IF)
Immunocytochemistry (ICC)
FLISA
Immunohistochemistry (IHC)
Enzyme/Fluorochrome
Biotinylated secondary antibodies – avidin/streptavidin conjugated to enzyme/fluorochrome
Step 4. Consider other specificity issues of the secondary antibody
Antibody fragment

If working with tissues or cells that have Fc receptors (spleen, blood, hematopoietic cells, leukocytes, etc.), choose a F(ab) or F(ab')2 fragment to eliminate non-specific binding.
F(ab')2 fragment secondary antibodies are generated by pepsin digestion of whole IgG antibodies to remove most of the Fc region while leaving intact the hinge region. Two F(ab) fragments and an Fc fragment are generated if digested by papain.

Pre-adsorbed (also cross-adsorbed)

The pre-adsorption process reduces the risk of cross reactivity between the secondary antibody and endogenous immunoglobulins present on cell and tissue samples. The process involves passing the secondary antibody over immobilized serum proteins from potentiAlly cross reactive species.
Example: Goat Anti-Mouse IgG (H&L) [TRITC], pAb (Cat.no A10071) is pre-adsorbed and has Min X Bv Ch Gt GP Ham Hs Hu Rb Rt & Sh Serum Proteins.

| Species | Abbreviation |
| --- | --- |
| Bovine | Bv |
| Chicken | Ck |
| Donkey | Do |
| Goat | Gt |
| Guinea Pig | GP |
| Hamster | Hm |
| Human | Hu |

| Species | Abbreviation |
| --- | --- |
| Monkey | Nhp |
| Horse | Eq |
| Mouse | Ms |
| Rabbit | Rb |
| Rat | Rt |
| Sheep | Ov |
| Pig | Po |

Clonality

Polyclonal antibodies are sufficient for most needs. Monoclonal antibodies can minimize background, cross reactivity and improve the lot-to-lot consistency.

Example:

Mouse Anti-Rabbit IgG Antibody (M205) [HRP], mAb (Cat.no A01827-200) only recognizes native rabbit primary IgG antibodies and does not react with denatured or reduced rabbit IgG heavy or light chain. Immunoprecipitation and Western blots often suffer from primary antibody heavy and light chain contamination at approximately 50 and 25 kDa, which is caused by poor specificity of conventional polyclonal secondary antibodies derived from goat or other species.